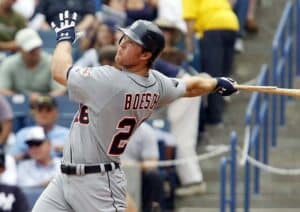 Outfielder Brennan Boesch was released by the Detroit Tigers Wednesday morning, and general manager Dave Dombroski said "a half dozen" clubs were interested in the left-handed hitting slugger. With a new left-handed bat on the market, can Rick Hahn pass up the opportunity to add an impact left-handed bat? The argument will come up that Boesch is streaky and why should the Sox invest in a guy who might perform up to his full potential for only a month? The answer for this writer is yes.
Currently the White Sox outfield looks like Dayan Viciedo will start in left, speedster Alejandro De Aza in center, and Alex Rios is right with DeWayne Wise and Jordan Danks battling for the fourth outfielder spot. In all that craziness I believe Boesch has a spot on the White Sox bench. DeWayne Wise is an easy piece to move, though he is a solid player with great defense, he is old and he probably won't be improving anytime soon. Jordan Danks however, would be a little more difficult to ignore. As a general manager you don't want to block or discourage the youngsters in your system by blocking them from a spot on the big league team. Although it may discourage Danks a little bit to have a player like Boesch added to the roster, you would have to let the younger Danks know that Boesch is simply a short term stopgap and that he instead is the long-term solution to their outfield situation long-term.
What Boesch brings to the team is a left-handed bat in the outfield who could carry a team at times, as seen before during his time in Detroit. Boesch is a below average defensive outfielder but the Sox would probably just use him to pinch hit, give Konerko or Dunn a rest at DH, and he would also see the occasional start. Boesch can fit into the White Sox plans, but the ball is in Rick Hahn's court now.
For More Great Chicago Sports Content
Follow us on Twitter at @chicitysports23 for more great content. We appreciate you taking time to read our articles. To interact more with our community and keep up to date on the latest in Chicago sports news, JOIN OUR FREE FACEBOOK GROUP by CLICKING HERE