We all know about the busts the Bears have drafted, especially in recent years. Stan Thomas, Cade McNown, Curtis Enis, Michael Haynes etc. etc. etc. But, the Bears have made some really good moves too in the past. So since we're so close to draft day, here's a list of the top 10 players that the Bears have drafted since 1975…
10.) Kevin Butler, Kicker: 4th Round 105th pick in the 1985 Draft, College: Georgia – Before Robbie Gould came along, Kevin Butler was probably the best kicker in Bears history. He had a great rookie season in 1985, with an 83.8% field goal percentage. His field goal percentage was never that high again but he spent 11 seasons with the Bears. He's currently the leader in most points scored in Bears history with 1,116, 366 more points than the second place holder….Walter Payton. 
9.) Neal Anderson, Runningback: 1st Round 27th pick in the 1986 Draft, College: Florida – With Walter Payton's career nearing its end, the Super Bowl Champion Bears selected Anderson as his heir apparent with their first pick in the 1986 NFL Draft. Anderson would have a nice career with the Bears, rushing for 1,000 plus yards for three straight seasons and scoring double digit touchdowns in each of those seasons. His career was shortened by injuries and he was forced to retire after the 1993 season. He has the second most rushing yards in Bears history with 6,166 yards.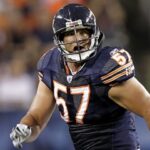 8.) Olin Kreutz, Center: 3rd Round 64th pick in the 1998 Draft, College: Washington – Kreutz has been one the Bears' best offensive linemen for the last decade and is the unquestioned leader of the group. Only he and long snapper Patrick Mannelly remain on the team today from the Dave Wannstedt coaching era. Kreutz's outstanding play has earned him six Pro Bowl appearances and a spot on the NFL 2000's All Decade Team. While his production has been slipping recently because of age, he was the best offensive lineman in a below average group of linemen this past season. His current contract expired after the 2010 season and Bears Head Coach Lovie Smith has stated that he would like to see him back for the 2011 season.
7.) Jim McMahon, Quarterback: 1st Round 5th pick in the 1982 Draft, College: BYU – It's no secret the Bears have struggled with the quarterback position since Sid Luckman was the team's signal caller. Prior to the arrival of Jay Cutler (13 years after McMahon retired from the NFL), McMahon was easily the most talented quarterback the Bears ever had in the modern day NFL. McMahon often created public stirs but they were all in good fun. He was drinking beer at his first public appearance with the Bears and mooned journalists during Super Bowl week in 1986. McMahon's greatest season as a Bear was in 1985, where he did more than just manage a solid offense that was backed by the greatest defense of all time. During an early season game against the Minnesota Vikings, McMahon was the 2nd string quarterback behind Steve Fuller because of a neck injury. Fuller proved to be ineffective during the game and McMahon continually nagged Bears Head Coach Mike Ditka to let him in the game. Down 17-9, Ditka was reluctant to let him into the game because he hadn't practiced all week but he finally gave in and let McMahon in midway through the 3rd quarter. On McMahon's first play, he threw a 70 yard bomb to receiver Willie Gault for a touchdown, cutting the Vikings' lead to 17-16. He later threw two more touchdowns, both to receiver Dennis McKinnon, giving the Bears a 30-17 lead. The Bears would go on to win the contest 33-24. The next week against the Redskins, McMahon would catch a 13 yard touchdown pass from Walter Payton in a 45-10 Bears victory. He also had an outstanding performance in the Bears' Super Bowl victory throwing for 256 yards and rushing for two touchdowns, becoming the first quarterback in Super Bowl history to rush for two scores. After 1985, much of McMahon's remaining tenure with the Bears was marred with injuries and clashes with management. The Bears traded him after the 1988 season. McMahon is ranked 3rd on the Bears' all time passing yards list with 11,203 yards thrown, 67 touchdown passes and 57 interceptions.
6.) Lance Briggs, Linebacker: 3rd Round 68th pick in the 2003 Draft, College: Arizona –  Briggs is currently one of the best linebackers in the NFL and a key component to the Bears Cover-2 defense. Briggs bursted onto the scene in 2004 with 102 tackles and 23 assisted. He currently has 862 career tackles. He's been selected to the Pro Bowl six times and was first team All Pro in 2005. Briggs was an unrestricted free agent in 2007 but the team franchise tagged him, binding him to return to the team for one more season. Upset that he hadn't received a contract extension, Briggs demanded to be released or traded. If his demands were not met, he threatened to sit out the entire 2007 season. He would later back off those statements and play the 2007 season. In 2008, he signed a six year contract extension to remain with the Bears putting an end to the saga.
5.) Brian Urlacher, Linebacker: 1st Round 9th pick in the 2000 Draft, College: New Mexico – What more can be said about Urlacher? He's been the most popular player on the Bears for a decade. Rightfully so. He's the anchor of the Bears defense, he has the most tackles in the franchise's history with 1,190, he was Rookie of The Year in 2000, Defensive Player of The Year in 2005, a seven time Pro Bowler and four time First Team All Pro. After missing 15 games in 2009, Urlacher stormed back this past season showing everyone he hasn't lost a step. He had 125 tackles in 2010, forced one fumble, had two fumble recoveries along with one interception and four sacks. Urlacher helped the Bears become one of the best defenses again in 2010, leading the Bears defensive unit to the NFC Championship.
4.) Richard Dent, Defensive End: 8th Round 203rd pick in the 1983 Draft, College: Tennessee State – If you were an NFL quarterback in the 1980's and early 1990's, chances are you were knocked on your ass more than once by Richard Dent. Nicknamed the "sack-man", Dent punished quarterbacks averaging 124.5 sacks during his 12 years with the Bears and 137.5 sacks for his entire career. He was easily one of the driving forces on the 1985 Bears, averaging 17 sacks that season. In the Divisional playoff game that year against the New York Giants, he harrassed quarterback Phil Simms early and often. He finished the game with 7 tackles including 3.5 sacks (the other 0.5 going to Otis Wilson). He was named the Super Bowl XX MVP in a blowout against the New England Patriots, 46-10. In that game, he had a blocked pass, two sacks and two forced fumbles. He was elected to the Hall of Fame in 2011, finally getting recognized for his accomplishments.
3.) Mike Singletary, Linebacker: 2nd Round 38th pick in the 1981, College: Baylor – Before Urlacher, there was Mike Singletary. Yet another dominating force for the greatest defense of all time in 1985. He led the team that season in tackles with 109. He also earned the reputation of an iron man, starting in 172 games during his 12 year career with the Bears. He was selected to the Pro Bowl every year from 1983 to 1992, the year he retired. He won Defensive Player of The Year in 1985 and 1988 and was elected to the Hall of Fame in 1998. Singletary is currently the linebackers coach for the Minnesota Vikings.
2.) Dan Hampton, Defensive End/Defensive Tackle: 1st Round 4th pick in the 1979 Draft, College: Arkansas – A lot of the reason why Mike Singletary was so great was because many teams focused on stopping Dan Hampton, which would then open the door for Singletary to make a play. Hampton was a versatile defensive lineman, able to play both the defensive end and defensive tackle positions. In 1984, he had 11.5 sacks and was selected to his third Pro Bowl. He would make the Pro Bowl one more time in 1985 but was later plagued with knee injuries that required many surgeries. Hampton retired in 1990 and was voted to the NFL 1980's All Decade Team. He later joined Singletary in the Hall of Fame, being elected in 2002.
1.) Walter Payton, Runningback: 1st Round 4th Pick in the 1975 Draft, College: Jackson State – No surprise here, Walter Payton was the greatest runningback to ever play the game of football. Payton dazzled us with his spectacular moves and running style. Payton rushed for 1,200 plus yards in 10 of 13 seasons in the NFL. Payton's best season was in 1977, when he ran for 1,852 yards, averaging 132.3 yards per game with 14 touchdowns. He also ran for 205 yards in a game against the Green Bay Packers and would later run for 275 yards in a game against the Minnesota Vikings. He was even a threat in the passing game, throwing for eight touchdowns in his career. Payton played on some pretty terrible Bears teams in the 1970's and early 1980's. However, by 1984, the Bears had built a solid offense around him and an even better defense. Payton's career statistics in the playoffs weren't sensational but he finally got his Super Bowl ring in 1985 at the age of 31 years old. Payton retired after the 1987 season with an NFL record 16,726 yards rushing. That record would stay unbroken until the 2000's when Emmitt Smith exceeded it. Payton was the MVP in 1977, a 9 time Pro Bowler, 5 time First Team All Pro and the winner of many other rewards in his outstanding career. It was a no-brainer that Payton would enter the Hall of Fame and he did so in 1993. In 1999, Payton suffered from a rare liver disease that would ultimately take his life in November of that year. Payton left a proud legacy not only as an NFL player but as a person. It was a privilege for everyone to watch him not only in Chicago but for everyone who was a fan of the NFL.
Heres a link to a video of some of Payton's career highlights…