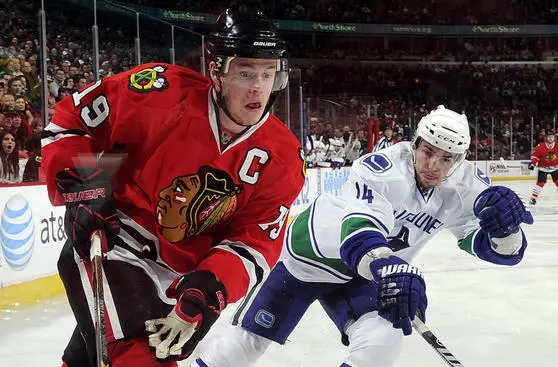 If you had to pick one player under the age of 23 to start your NHL franchise with, who would it be? TSN just wrapped up this pretty cool "competition" on their website a couple days ago labeled "Franchise Faceoff" and I figured I would share my Top 5 Rankings:
1. Sidney Crosby
OK, so he just turned 24 on August 7th, but I have to squeeze him in here anyways. Is there a better hockey player than Sidney Crosby on the face of this earth? Highly unlikely. He is the face of the NHL and the face of the Pittsburgh Penguins franchise. Crosby is the youngest player in league history to record back-to-back 100-point seasons and is also the youngest captain ever to hoist the Stanley Cup. Sid the Kid has won the ESPY award for best NHL player in 2007, 2008, 2009, 2010, and would have most likely won it in 2011 as well but his season was unfortunately cut short due to a concussion he suffered in January. In 2007 and 2010, he also took home the Mark Messier Leadership Award "that recognizes an individual as a superior leader within their sport, and as a contributing member of society." Crosby is a tremendous leader on and off the ice and is one of the most highly respected players in the league today.
2. Jonathan Toews
He is the total package. Jonathan Toews took an ailing Chicago Blackhawks franchise from worst to first bringing back a Stanley Cup to an organization that hadn't seen one in 49 years. His resume consists of a Calder Trophy nominee in 2008, two-time NHL All-Star, Gold Medal, MVP (Forward) of the 2010 Winter Olympics, Stanley Cup Champion, Conn Smythe winner, and a Selke Award finalist in 2011. Toews is the third youngest captain to hoist the Stanley Cup, second youngest player to win the Conn Smythe Trophy, and is just one of six players to win an Olympic gold medal and a Stanley Cup in one year. Did I mention he's just 23 years old?
3. Steven Stamkos
One of the most promising young forwards in the league that is already being talked about as one of the best players in the game. In just his second season in the NHL, Stamkos knocked in 51 goals becoming the third youngest player to ever score 50+ goals in a regular season falling just one goal short of tying Vincent Lecavalier's 52 goals for the franchise record. In 2011, Stamkos recorded 45 goals and 91 points leading the Tampa Bay to their first playoff berth in four years and their first Conference Finals appearance since 2004 when they won the Stanley Cup. At 21 years of age, he's only going to get better.
4. John Tavares
This one may surprise a lot of people, but John Tavares is unquestionably one of the most talented young players in the NHL today. He was the first overall draft pick in 2009 by the New York Islanders and is definitely the most important member of their rebuilding project. Tavares registered 24 goals and 30 assists for a team-leading 54 points in 82 regular-season games during his rookie campaign in 2009-2010 and in his second season last year, he led the team in assists with 38 and points with 67. Tavares also scored a team-leading 5 game-winning goals last season and finished first in face-off wins. In several years, this kid is going to be in the discussion as one of the best players in the game. The scary part is that he hasn't even reached the age of 21 yet.
Defense wins championships. The Los Angeles Kings selected Drew Doughty with the second overall pick in the 2008 draft and have not looked back since. He made his NHL debut in 2008 at age 18 and immediately impacted the team that year finishing with 27 points good for second on the team among all defenders. At the end of the year, he was named to the All-Rookie team. In the 2009-2010 season though, Doughty began to raise eyebrows leading the Kings defense in goals (16), assists (43), and points (59) as well as placing second on the club with a rating of +20. Doughty was nominated as a Norris Trophy finalist seeking to be the youngest defenseman to win it since Bobby Orr in 1968 but finished third voting. 

He was also the youngest player to participate in the 2010 Winter Olympics that played on the top defensive line helping bring a gold medal to Team Canada. Doughty didn't exactly have the best year in 2011, but it was good enough to finish second on the team in points with 40 as well as a +13 rating. Expect to see this guys name on the Norris Trophy very soon.
For More Great Chicago Sports Content
Follow us on Twitter at @chicitysports23 for more great content. We appreciate you taking time to read our articles. To interact more with our community and keep up to date on the latest in Chicago sports news, JOIN OUR FREE FACEBOOK GROUP by CLICKING HERE