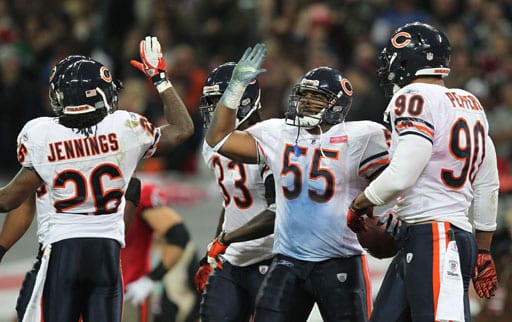 By Jake Perper
The Chicago Bears (7-1) welcome the Houston Texans (7-1) to Soldier Field for a big Sunday night matchup.
The Bears are 0-2 all-time against the Texans. The last time these two teams met was in 2008, when the Texans knocked off the Kyle Orton led Bears in 2008, 31-24.
The Bears are coming off a 51-20 blowout win over the Titans in Week Nine.
The Texans won their second game in a row last week, 21-9 over the Bills.
Houston's only loss this season came in Week Six against Green Bay. The Bears only loss came in Week Two against Green Bay as well.
This is arguably the biggest matchup this season for the Bears since Week Two at Green Bay or Week Four at Dallas.
Both the Bears and Texans have elite defenses this season.
The Texans have a gem in J.J. Watt, who has 10.5 sacks this season.
The Bears have scored seven defensive touchdowns off passes, which is one more than the Dolphins, Panthers and Chiefs offenses.
The Bears won the games that they needed to against Carolina and Tennessee. Sitting at 7-1 the road ahead isn't easy.
After Sunday night's clash with the AFC best Texans, they head to San Francisco the following Monday night than welcome Minnesota and Seattle to town the next two weeks.
The Bears are second in points allowed per game (15.0) and are third in points scored per game (29.5).
The Texans have similar rankings this season. They are fourth in points allowed per game (17.1) and are second in points scored per game (29.6).
Injury Report:
Bears' WR Alshon Jeffery (hand) is doubtful for this game, but made progress by practicing on a limited basis on Friday. He is aiming to return against the 49ers next Monday night.
Defensive lineman Israel Idonije (ankle) and Henry Melton (back) both were banged up after the game in Tennessee, but appear to be ready to go after practicing fully the past two days. Also, DT Matt Toeaina (calf) is doubtful for this game.
The Texans have a few key injuries. TE Owen Daniels (back) is questionable after not practicing Wednesday or Thursday, but he was able to practice on a limited basis on Friday.
RB Ben Tate (hamstring) and NT Shaun Cody (ribs) have been ruled out. Starting CB Jonathan Joseph (quadricep) was able to practice fully on Friday after practicing on a limited basis the past two days.
The Bears will win if?
The Bears will win if they can score first in this game. This will likely be a defensive battle, so the Bears have to make sure they can get on top first or they could be in for a long night. Getting Forte and Marshall into the mix early on is very important. I think getting Forte involved in the passing game could really help them thrive on Sunday night.
The Bears will lose if?
The Bears will lose if they get caught up in solely stopping Texans' RB Arian Foster. I know stopping him is key for this game, but their are so many weapons on this Texans' offense that can find openings if you given space. The Bears have to continue what their doing well on defense, bringing pressure with their front four. If they can't get pressure the Texans will attack the middle field all night long.
Players who must step up:
1) Gabe Carimi- He has struggled the past few weeks with penalties and protection issues. He needs to step up in this game because he will likely see a heavy dose of either J.J. Watt or Antonio Smith. He hasn't played up to his talent level just yet. Sunday night would be the best time for him to put a complete game together.
2) Julius Peppers- He is tied for first on the team with five sacks, but he has had some games where he has disappeared. In games against the Colts, Cowboys and Jaguars he combined for just five tackles. He has seven tackles in two career games against Houston. He is still one of the best defensive ends in the league. The Bears need him to be the best player on the field in this one.
Prediction: Four tackles, 2.0 sack.
3) Major Wright- He is second on the team with three interceptions. He has been a play-maker in his second full season as a starter. He needs to stay in his zone on the back end and not allow any big throws. The Bears have been good at limiting big plays from defenses and Wright is a big reason for that. Look for him to be a star on Sunday night.
Prediction: Five tackles, one interception
Score predictions: 
Jake Perper: Chicago Bears 20, Houston Texans 17.
Matt Eurich: Houston Texans 17, Chicago Bears 14.
Qwikcast.com Weather Report:
Upper 50's. Rain showers and a slight chance of thunderstorms in the evening. South winds 20 to 30 mph with gusts up to 35 mph.
For More Great Chicago Sports Content
Follow us on Twitter at @chicitysports23 for more great content. We appreciate you taking time to read our articles. To interact more with our community and keep up to date on the latest in Chicago sports news, JOIN OUR FREE FACEBOOK GROUP by CLICKING HERE