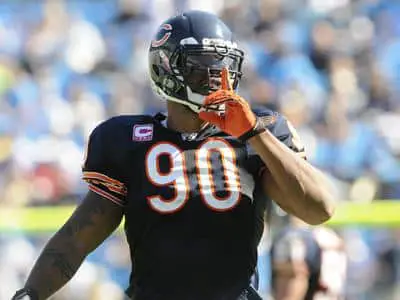 After the Bears' impressive victory over Michael Vick and the Eagles, local and national media outlets have finally started to take notice.
The Monsters of the Midway have also revieved high marks from the NFL, including Jay Cutler earning Offensive Player of the Week and Julius Pepper taking Defensive Player of the Month honors.
The previously suspicious 7-3 Bears have now been replaced by the  Super Bowl bound 8-3 Bears.  Before they step into the recording studio and cut the long awaited follow up to 1985's hip-hop classic The Super Bowl Shuffle, the Bears have some business to take care of.
This week's game against the 2-9 Lions has all the makings of a trap game.  The Bears barely escaped with a victory over the Lions in week one and despite their abysmal record, the Lions have a tendency to hang around.
"They have a lot of weapons," said Bears' defensive lineman Israel Idonije. " If you don't play well they will beat you."
Admittedly, the Bears have evolved since the 2010 season kickoff, particularly on the offensive side of the ball.  Since the bye week, Martz seems to have ceased his attempts to win the game on every single play.  A scaled back offensive attack mixing not only the run but short and deep passes has forced defensive linemen to at least consider defending the run allowing Cutler some time to find open receivers.
Not only have the Bears improved, but the Lion's have Drew Stanton, their third string quarterback, starting in place of injured second-stringer Shaun Hill.
All things considered, it is easy to look past the Lions to the following week's contest against the 9-2 Patriots.  The last four weeks of the season has the Bears pitted against three potential playoff teams.  In a sense, the Lions remain an afterthought.
It remains the responsibility of the coaching staff and players alike to take the Lion's seriously.  Despite their awfulness, the Lions are still an NFL team and if the 2010 season has proven anything, it proves that no win is guaranteed.
Brian Marchetti
P.S.