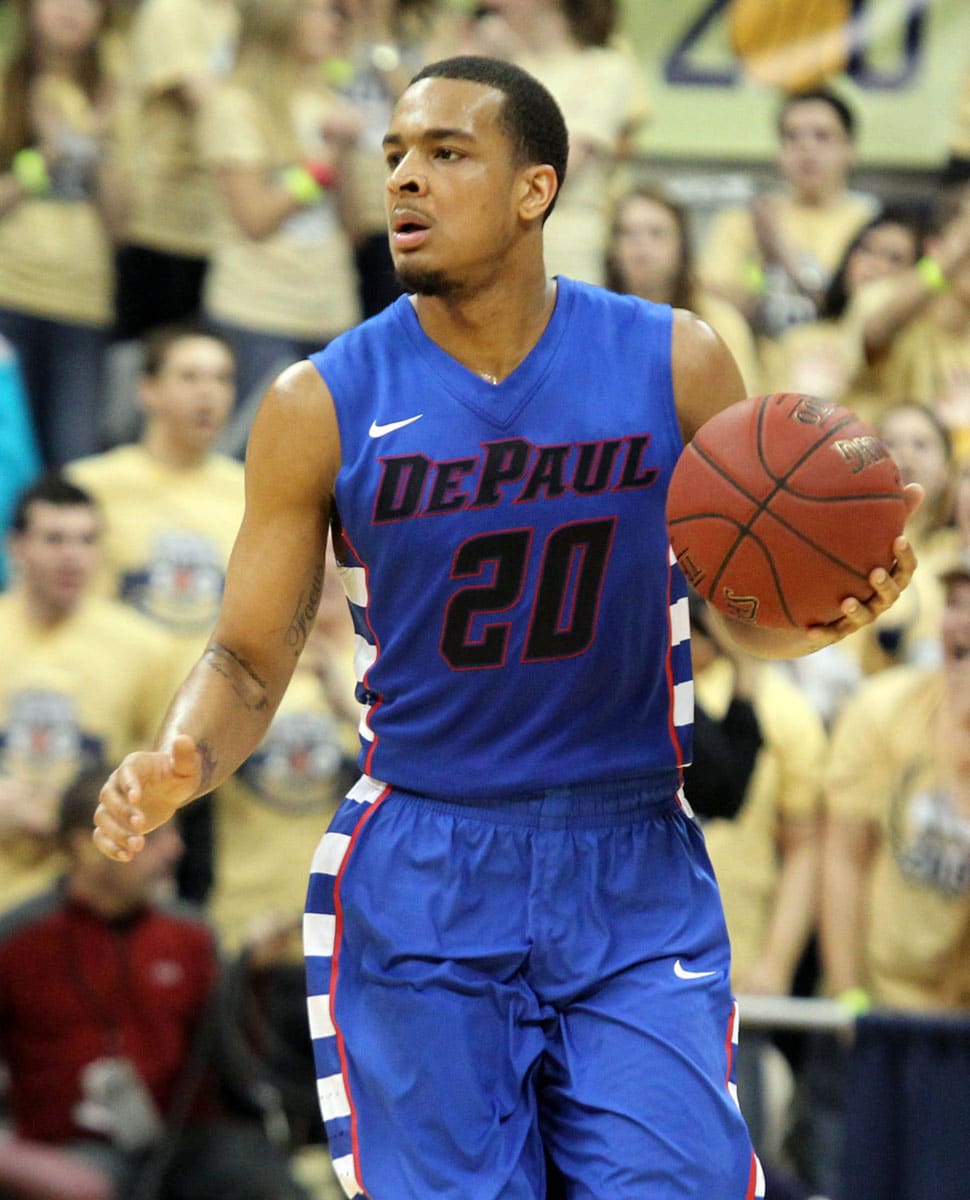 On Thursday night, the DePaul Blue Demons surprised many in the college basketball world with their come from behind, double overtime victory over Butler. This victory has led to many accomplishments for Oliver Purnell's team. Accomplishments that just might save DePaul's season by giving them momentum to build off of.
The main goals they achieved on Thursday were their first Big East Conference victory of the 2013-2014 season, and snapping their three-game losing streak. The Demons were riding high after finishing their non-conference schedule with a hard fought victory over Northwestern back on December 27th. From there; they blew a second half lead in their conference opening loss at Georgetown, couldn't make a shot to save their lives at Marquette, followed by Tuesday's debilitating home loss to Creighton.
That loss saw Billy Garret Jr. shoot 0-for-10 from the field (0-for-7 from three-point range), and saw DePaul's defense get torched by NBA prospect Doug McDermott. After that game it looked like DePaul was going to head down that familiar path of one conference loss after another. It looked like it would be another aching season, then came Thursday night's much needed victory.
The Blue Demons overcame a 61-49 deficit to force overtime (Butler would force a second overtime), then outscored the Bulldogs in the two extra periods 26-21 at Hinkle Fieldhouse to win the game. This victory highlights broader and much more important accomplishment's for the DePaul program. For starters, this was DePaul's first conference triumph since taking down Rutgers-in the "old" Big East-back on February 16th, 2013. Last night's win broke a 10-game conference losing streak.
The Demons also snapped their two-game road losing streak. Additionally, DePaul is now 6-1 overall against the Bulldogs, which means Oliver Purnell is now 2-0 lifetime against them. This is also DePaul's first win in the State of Indiana since December 11th, 2004-an 84-73 victory at Notre Dame-they had gone 0-11 in the Hoosier state since then.
This victory also gives DePaul their first win in the month of January since beating Providence back on January 5th, 2013. Before last night's big win, the Blue Demons had lost eight January games in-a-row. On the other side, Butler has now lost their last two home games and three in-a-row overall. They are now last place in the Big East with an 0-3 conference record (10-5 overall).
This game also highlights that Butler, who was one of the better teams coming from the Atlantic 10, and the dominant team in the Horizon League before that, seems to be falling from grace. The last time Butler lost three consecutive conference games was during the 2010-2011 season. The last time Butler lost consecutive home games was during the 2011-2012 season. This all took place while they were still in the Horizon League.
The competition is much harder in the Big East. And if the Bulldogs can't cure what ails them now, they could be heading for one of their worst seasons in recent memory. As for the Blue Demons, they got the monkey off of their backs with this win. They now have time to enjoy, rest and prepare as they won't take the court again until Tuesday.
That's when a very beatable St. Johns team ( 9-5, 0-2 Big East) comes to the Allstate Arena. Beating the Red Storm will give them 10 wins on the season. It will also give them energy and momentum heading into their encounter with the undefeated Villanova Wildcats (in Philadelphia) four days later. This may finally be the moment where we witness the resurrection of DePaul basketball.
Follow me on Twitter @GabeSalgado82
For More Great Chicago Sports Content
Follow us on Twitter at @chicitysports23 for more great content. We appreciate you taking time to read our articles. To interact more with our community and keep up to date on the latest in Chicago sports news, JOIN OUR FREE FACEBOOK GROUP by CLICKING HERE