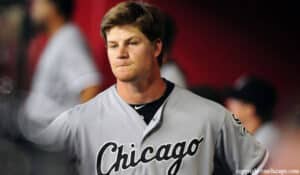 2009 was such a promising year with the young Beckham touting a 343 OBP, 811 OPS, a pretty decent contact rate of 84%, a really good power rating, and a batting average of 279 nearly matching his xBA of 283.
The future for this young second baseman sure looked bright.
But the proverbial light on his future has dimmed to the point of being extinguished.
Instead of improving, Beckham became worse offensively. The stats I listed above have been on a steep decline resulting in head-in-the-sand numbers like: 281 OBP, 618 OPS, 78% contact rate, an abysmal power rating, and an average of 230 with an xBA of 233 in 2011.
Why?
One of Beckham's biggest issues is he is simply not seeing the ball (define "seeing the ball" as his BB/K ratio). In 2009, this was 61%; in 2011, a pathetic 32% according to Fangraphs. That's a very telling, very scary statistic.
If one needs further evidence of Beckham's lack of ability to see the ball, in 2011 his "outside swing percentage" was 37.3%, up 12.6 points from 2009. In other words, he's swinging at crap resulting in getting himself out by whiffing or getting himself out via infield groundouts (39% ground ball rate for 2011, 44% in the 2nd half (read: not good)).
Beckham is also struggling against left-handed pitchers. In 2009, he went 318 versus southpaws. In 2011, a balmy 195.
What does this all mean?
Simply, he has lost discipline at the plate. He has lost confidence and the deterioration of his skills-set is the direct result.
If Beckham wants to get better at the plate, he needs to start seeing the ball better, have more patience, and trust that beautiful swing of his.
Unfortunately, that is not something he can correct overnight.
I expect more of the same with Beckham in 2012, unless the new hitting coach can get him out of his 3-year funk.
However, I am hopeful for Beckham to show signs of improvement in the 2nd half of 2012 and start to show improvements in his base skills in 2013. I have no empirical evidence to support this will happen (in fact the numbers state the opposite) but Beckham is one of my favorite White Sox players and I hope, from a fan's standpoint, and for his baseball sanity, he can turn it around.
I'm keeping my fingers crossed that Bacon will sizzle once again.
All statistics in this article were researched at fangraphs.com and baseballhq.com.
For More Great Chicago Sports Content
Follow us on Twitter at @chicitysports23 for more great content. We appreciate you taking time to read our articles. To interact more with our community and keep up to date on the latest in Chicago sports news, JOIN OUR FREE FACEBOOK GROUP by CLICKING HERE