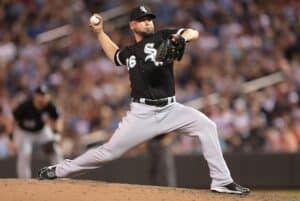 The White Sox have made the first move since dealing Matt Thornton to the Red Sox by trading stud reliever, Jesse Crain, to the Rays for a player to be named later and cash considerations. Jesse Crain was about two days away from being activated from the disabled list and beginning a throwing program. He will continue his rehab in Florida.
As for the move itself, White Sox fans will not get what they were hoping for, at least not immediately, as GM Rick Hahn doesn't even know who he is receiving yet. As of now the Rays get a relief pitcher who has proven himself to be one of the most effective in the American League, with a 0.74 ERA. White Sox fans will cry that the player to be named later and cash considerations were not enough for a guy who has been this effective, but they will be a little misguided.
Though Crain has been super effective as the White Sox set up man, fans have to remember that he is coming off of injury and he is going to be a free agent at the end of the season. Though Crain was successful, there were still a lot of "what ifs" for the Rays to be committing one certain player to.
This deal allows the Rays to feel somewhat secure in the fact that they are not risking a top prospect for a half season of a terrible Jesse Crain, and allows the White Sox to have an idea of what prospects they will be allowed to choose from at season's end. With the Rays loaded with decent prospects on the mound and on the field, there are not many ways to fumble this deal. Let's just hope Hahn makes the right call and gets the Pale Hose the best return he can.