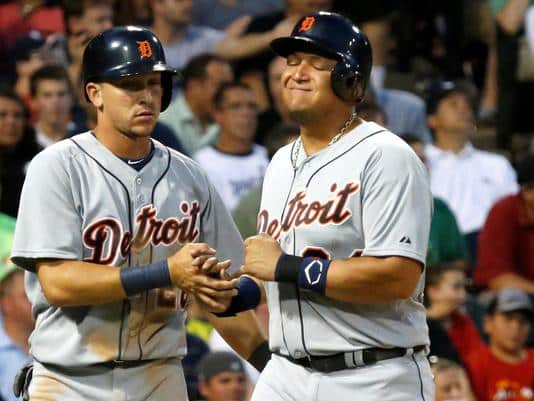 (Photo: Charles Rex Arbogast, AP–Miguel Cabrera)
After losing the series to their division rivals the Chicago White Sox (40-59), the Detroit Tigers (56-45) came to U.S. Cellular with a must-win attitude. And unfortunately for the Sox, who had just come off a successful run against the leading Atlanta Braves, the Tigers succeeded in taking 3 out of 4 games in this week's series.
Monday, July 22—Tigers 7, White Sox 3: It was an All-Star pitcher duel between Tigers' Matt Scherzer and White Sox's Chris Sale. Sale gave up seven hits and three walks, and struck out 11, but there was drama between he and Robin Ventura when asked to intentionally walk Miguel Cabrera. Not a good night for Sale. Scherzer only gave up four hits, two of them homers a la Dayan Viciedo and Conor Gillaspie. This wasn't a hot defensive game for the Southsiders as they allowed three errors, two consecutively in the last inning from Alexei Ramirez and Ramon Troncoso (I swear, every time I see Troncoso, it's a disaster).
Tuesday, July 23—Tigers 6, White Sox 2: Robin Ventura got kicked out three batters in to the first inning after arguing base path interference, but it's probably for the best—at least he didn't have to watch the White Sox's WORST defensive game in a while. Four errors in the game, SEVEN ERRORS in the past two games. That is EIGHT total unearned runs. There were also only four hits (two via Conor Gillaspie) to match same number of game errors. This game doesn't deserve a solid recap unless you're a Tigers fan. The only upside is that Paul Konerko stopped it from being a shut out with a two-run homer in the ninth.
Wednesday, July 24—Tigers 6, White Sox 2: John Danks couldn't catch a break, allowing three home runs in five innings. He faced Tigers starter Anibal Sanchez, who allowed six hits in six innings, but the White Sox weren't able to do anything with it to produce runs. The Southsiders didn't get on the board until the seventh with a hit from Alexei Ramirez and a homer from Dayan Vicideo. Alejandro De Aza performed well to this point too, bringing in 21 hits in the past 12 games.
Thursday, July 25—White Sox 7, Tigers 4: Jake Peavy, we salute you. Holding the Tigers to four runs on four hits over seven-plus innings, Peavy received a standing ovation when exiting in the eighth. Even though three of the four hits were home runs, Peavy showed that he's still got it going on after his second start back from the DL. The White Sox had a good offensive run against Justin Verlander, who gave up seven runs and 11 hits over six innings. Eleven hits isn't too shabby when you consider how poorly the White Sox had been hitting the earlier three games.
But despite all the happiness of winning, the White Sox committed their 70th error of the season in today's game (that's just a few behind the Los Angeles Angels, who have the highest number of errors in the AL). I want to be happy that they dodged a sweep, but this is the type of series that reminds you how badly things need to be changed up. Interpret that as you will.
For More Great Chicago Sports Content
Follow us on Twitter at @chicitysports23 for more great content. We appreciate you taking time to read our articles. To interact more with our community and keep up to date on the latest in Chicago sports news, JOIN OUR FREE FACEBOOK GROUP by CLICKING HERE