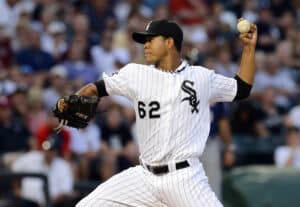 In game two of the Chicago vs. Boston matchup, the White Sox (21-23) edged out the Red Sox (27-19) in a 3-1 win at U.S. Cellular Field.
The strengths in this game weren't as much the bats, but more the power on the mound. Jose Quintana (3-1, 3.48 ERA) put up a great show today, keeping Boston batters hitless until the 7th inning.
The game remained scoreless until the fifth, as Boston's Felix Doubront (3-2, 5.61 ERA) was holding up well too. But after a single by Dayan Viciedeo, Jeff Keppinger followed up with a two-out home run to bring him in. Is this a new side to Keppinger that doesn't involve being disappointed? I like.
But Quintana's halt on hits ended in the seventh on David Ortiz's broken-bat single. After giving up hits to Napoli and Daniel Nava, Quintana was taken out with bases loaded. But you can't be mad at the guy—he was throwing a no-hitter until that point. And when he took it to the bench, White Sox fans saluted with a well-deserved standing ovation.
Reliever Jesse Crain then came in to strike out Will Middlebrooks and Jarrod Saltalamacchia with bases loaded to end the inning. It was badass. I'm pretty sure Middlebrooks dropped the F-bomb and WGN wasn't paying attention.
Boston didn't score until the 8th inning with Matt Thornton on the mound. Jarrod "Salty" Saltalamacchia walked, and Jacoby Ellsbury singled. The runners advanced on a wild pitch. Dustin Pedroia's grounder went through Alexei Ramirez' legs at shortstop (FACE PALM), scoring "Salty". But the inning ended quick when Ortiz put himself into a double-play.
Bottom of the 8th, the White Sox gained an insurance run as Alexei Ramirez singled, and was brought home on a double from Alex Rios, whose bat has been on fire these days.
Addison Reed closed out the game in good fashion, his 16th save in 17 chances—all of this while it began pouring rain in Chicago. And don't count out that awesome catch in LF by Casper Wells. It was clear that he couldn't see anything through the downpour, but he stop, drop, and rolled in to a funny-looking, yet still effective catch on the warning track.
Up Next: Chris Sale will not be starting tomorrow due to minor tendinitis in his left shoulder. Boston will still send out the unbeaten Clay Buchholz (6-0, 1.78 ERA), and the White Sox will put up Hector Santiago. Sale says he will "definitely" be back next week for the Crosstown Classic against the Cubs.
For More Great Chicago Sports Content
Follow us on Twitter at @chicitysports23 for more great content. We appreciate you taking time to read our articles. To interact more with our community and keep up to date on the latest in Chicago sports news, JOIN OUR FREE FACEBOOK GROUP by CLICKING HERE