Chicago Bears are a footballing institution but how much do you know about their history and their former players? In this article, we'll be running through who we think are their 8 greatest players ever, in no particular order, and why they had such memorable careers in Chicago. 
We might have left out some really great players, it was hard to include them all, but we picked who we thought lit up NFL stadiums more than the rest.
Walter Payton
Arguably one of the greatest players ever in football history, let alone Chicago Bears history, Walter Payton played professional football for 13 seasons and was an absolute machine. Throughout his career he developed a reputation for his running, exceeding over 1,000 yards in 10 of those seasons, which takes some going that's for sure. He was an absolutely stellar player and definitely one who is worthy of his immense career and reputation.
He was rewarded for his incredible on-field form too when he was selected for 9 Pro Bowls and was included in the All-Pro a colossal 7 times. Despite retiring way back in 1987 Payton is still widely regarded by pundits and fans alike as being one of football's finest.
Dick Butkus
Despite having a funny-sounding name, Butkus' on-field exploits are no laughing matter with the former Chicago Bears linebacker being both a top-three draft pick and a Pro Bowl inclusion in all but 1 of his 9 seasons playing in the NFL. The season he didn't make the cut? That would be his final season before retirement, signifying just how consistent he was.
Despite playing in the 1960s and 1970s, Butkus is still fondly remembered as a player with every generation of high-potential linebackers being educated about what is expected of them, with him serving as the prime. It's no surprise that his Chicago Bears jersey number was retired upon his exit from the game and that he is a Hall of Fame inclusion.
Mike Ditka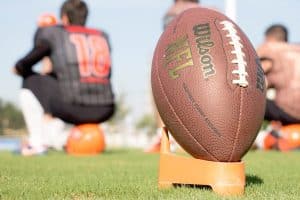 An inclusion that is a little, but not much, more dated than the 2 prior inclusions is the former Chicago Bears stalwart, Mike Ditka. During his time with the Chicago Bears, Ditka set the world alight even as a rookie, recording a then team record of 12 touchdown receptions and earning a very well-deserved Rookie of the Year reward as a result. A worthy reward for a great player.
Unlike a lot of brightly shining rookies though, Ditka continued to play stellar football throughout his career and this is reflected by the fact that in his first 5 seasons with the Chicago Bears he was included in the Pro Bowl every single time. He hit the ground running.
Mike Singletary
A more recent inclusion in the list, who was a second-round draft pick in 1981, Singletary spent his entire 12-year professional football career with the Chicago Bears, doing what many modern players have done. He is the definition of a one-club man and absolutely leads by example, going on to enshrine himself in Chicago Bears folklores as a man who bled Chicago.
A pivotal player in the Chicago Bears' 1985 Super Bowl win, the first in club history, Singletary was rewarded for his incredible performance by being named the Defensive Player of the Year, an accolade that he received again just 3 years later in 1988. During his 12 years with the Chicago Bears Singletary was included in the Pro Bowl an astonishing 10 times.
Gale Sayers
A player with a relatively short career in the NFL, Sayers's flame burned short but definitely burned brightly, with the player playing all 7 of his NFL seasons in Chicago for the Chicago Bears. A player from the league's early years, playing his first season back in 1965, Sayers won the Rookie of the Year award right off the bat and backed that up by recording the highest rushing numbers in his second year. It's no surprise he held numerous records when he retired.
As touched upon earlier, sayers didn't enjoy huge longevity during his career with the Chicago Bears. Cruelly plagued by persistent ligament injured, Sayers was forced to retire prematurely in 1971 after a knee injury, likely caused by prior ligament damage, which forced him out of the game.
Bronko Nagurski
An inclusion that is a little stranger than the others due to the nature and profile of the Player, Bronko Nagurski was known during his playing career for the fact that he was also a world wrestling champion. As you can imagine, his immense skill at wrestling was super useful when it came to him playing as a running back due to his immense sense of balance, core strength, and overall ability. He was the complete athletic package.
It's not just his skills that made him a legendary player through, Nagurski spent his entire 8-year NFL career with the Chicago Bears, winning three championships, and was included in the All-Pro first-team a very impressive 4 times. They even retired his number.
Richard Dent
Potentially the most recent inclusion on this list, Richard Dent enjoyed a career in the NFL that spanned from 1983 up until 1997, with a majority of that being spent with the Chicago Bears. During his 11 years in Chicago, Dent was one of the key players for the Chicago Bears during their 1985 Super Bowl win, going on to receive the MVP award for his excellent display.
He wasn't the flashiest of players but that didn't really matter with Dent relying on his athletic ability to help him stay ahead of the curve and out-play his opponents. Dent is best known by pundits and fans alike for his build, strength, and speed but he also had an excellent ability to read the game, which saw him make a record number of sacks during his career.
Dan Hampton
We end with a player from 1979 who was a fourth-round draft pick, Dan Hampton spent his entire 11-year career with the Chicago bears and was an excellent player, and was named in the Pro Bowl and All-Star first-team 4 times each. He was never a statistical marvel, perhaps due to his role as a utility man, but he sure was a very reliable player for the Chicago Bears.
For More Great Chicago Sports Content
Follow us on Twitter at @chicitysports23 for more great content. We appreciate you taking time to read our articles. To interact more with our community and keep up to date on the latest in Chicago sports news, JOIN OUR FREE FACEBOOK GROUP by CLICKING HERE