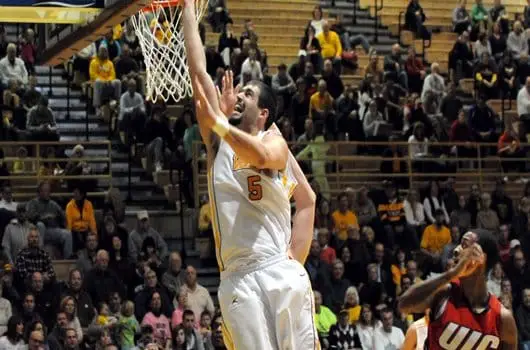 The closest team to Chicago city limits that, most likely, will make the NCAA tournament is Valparaiso (18-6, 8-2). The Crusaders showed the UIC Flames (14-10, 5-6) who ruled the Horizon League with an 86-61 victory. All five starters from last year are on the team, and the high level of team chemistry was visible.
Valpo was 15-26 from three-point land and most of their shots were wide open as well. This was mainly due to the quick ball movement Valparaiso did. But some credit is due to the sheer talent of Ryan Broekhoff. He scored 22 points and was 6-9 behind the arc. Many of those shots he created himself.
This was my first NCAA college game I saw first-hand this season. But even so, I could tell that if Coach Bryce Drew—yes, the former Chicago Bull, son of former Crusaders Homer, and Crusader legend himself— has his players playing the way they did last night, another sweet sixteen run may not be out of the picture.
On the other hand, the UIC Flames lost a much needed upset bid. They played close early on, but they were no match for Valparaiso. Josh Crittle and Daniel Barnes each had 12 points, but no one else scored in double figures for Coach Howard Moore's Flames. They would not make the NCAA tournament without a conference tournament title. If UIC can catch a flame, there is an outside chance they could run the table in the Horizon Tournament.