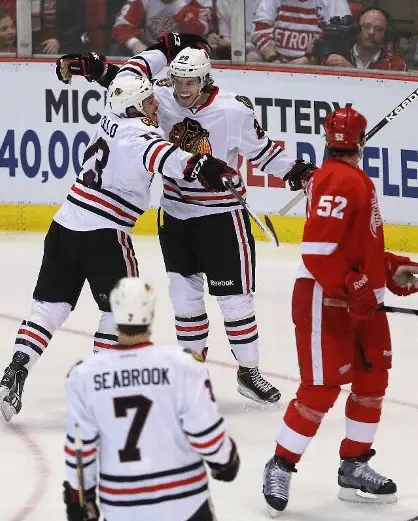 After dropping three of their previous four games, the Blackhawks get back on track led by the young guns hammering the Red Wings by a final score of 7-1.
The Hawks didn't waste any time jumping on the board scoring three goals in 99 seconds within the first five minutes of the game.
Jeremy Morin found the back of the net in his first contest of the season just over two and a half minutes into the opening period. Brandon Saad and Dave Bolland added goals of their own seconds later to extend Chicago's lead to 3-0 in a flash.
Early in the second, Jonathan Toews and Saad continued to pile on the lead by potting goals 8 seconds apart from each other giving the Hawks a 5-0 lead prompting Mike Babcock to replace Jimmy Howard in goal with Jonas Gustavsson.
Detroit outshot Chicago 15-7, but failed to get one past Corey Crawford.
In the final period of regulation, Bolland tacked on another goal followed by Nick Leddy who contributed to the party late.
Crawford lost his shutout bid with 33 seconds left in the game when Cory Emmerton wristed home a shot in a wide open net, but it wouldn't matter in the win/loss column.
Bolland (two goals), Saad (two goals, one assist), and Toews (one goal, two assists) each recorded multi-point games for the Hawks.
Chicago has now killed off 11 consecutive penalty kills in their last five-plus games.
Crawford earned his 14th victory of the season stopping 33 of 34 (.971 save %) shots on the afternoon.
WHAT'S NEXT?
The Blackhawks head back home to battle the Nashville Predators tomorrow night; puck drop at 7:30pm CT!