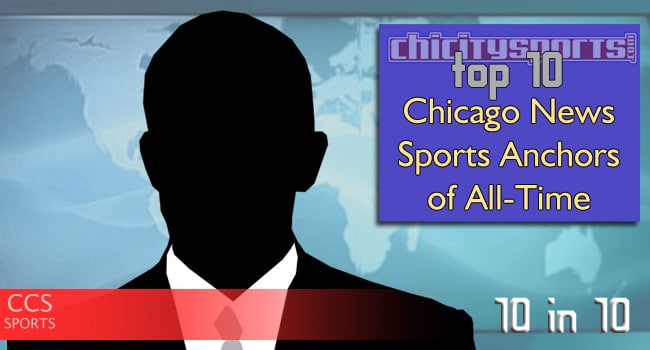 Welcome back to the 10 for 10 where we'll name another Anchor in our top 10 Chicago News Sports Anchors of All-Time.
[divide style="3″]
#6. Mark Giangreco
[divide style="3″]
[divide style="3″]
WMAQ NBC Channel 5
WLS ABC Channel 7
[divide style="3″]
[divide style="3″]
[clear]
After moving to Chicago in 1982, the Giangreco name, face, and voice have become a staple in Chicago Sports Anchoring ever since. The forever smart-ass approach to anchoring is strangely unique to Mark, and he has turned it into a big positive. Without seeing more of Mark, some viewers might be quick to judge based on his somewhat snarky tone, but after peeling back a few layers and getting to know his take a bit better, you quickly see that everything he says is in good fun. A counterbalance to the same old fake grin and TV face telling you 'maybe next year'. Just relax, it's not personal. This guy won a legitimate Father of the Year award, so believe me, this is just for good TV.
Mark left NBC5 to go to ABC7 in 1994, where he has been the lead sports anchor for nearly 20 years on Chicago's highest rated news program.
[clear]
If you want to see #5, come back tomorrow. Updated: Click here to see #5
A News Sports Anchor is the person you usually see near the end of the news program giving out the sports highlights and scores for the day. Only Chicago television news programs are considered. The programs can be found on WBBM 2, WMAQ 5, WLS 7, WGN 9(including CLTV), WFLD 32 as the morning, afternoon, daytime, evening, nightly, or various weekend news.
For More Great Chicago Sports Content
Follow us on Twitter at @chicitysports23 for more great content. We appreciate you taking time to read our articles. To interact more with our community and keep up to date on the latest in Chicago sports news, JOIN OUR FREE FACEBOOK GROUP by CLICKING HERE