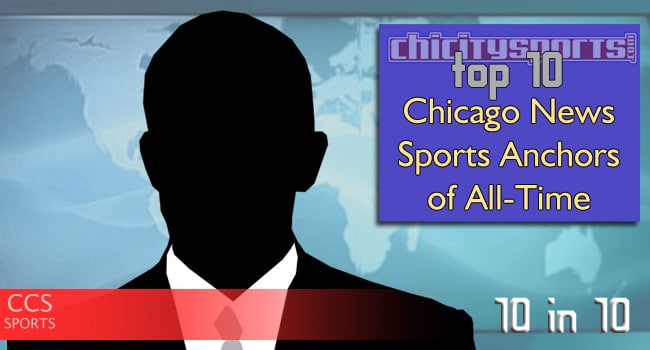 Another day in the 10 for 10, another Anchor named in our top 10 Chicago News Sports Anchors of All-Time.
[divide style="3″]
#7. Bruce Wolf
[divide style="3″]
[divide style="3″]
WMAQ NBC Channel 5
WFLD FOX Channel 32
Various field reporting spots and radio(Including WXRT, WLUP)
[divide style="3″]
[divide style="3″]
[clear]
Only a drunken Harry Carey might be considered as a more unfiltered sportscaster in Chicago history. Bruce Wolf's allover the map, controversial and not so politically correct humor served him well in his ongoing Chicago media career. Even while being offensive, it wasn't easy to be mad at Bruce, the same way you let it slide when a stand-up comic poked fun at something considered sacred. Just don't let his vivid sense of humor fool you, Bruce is a sharp guy and knows Chicago Sports.
Starting back in the mid 70s, Bruce covered sports on FM Radio news shows. He developed recognition on WXRT before moving to the LOOP (WLUP). In 1987 he had a shot to cover sports for WFLD FOX, his first television gig. His quick reactions and highly entertaining improvisation on air led to a few local emmy awards. Wolf is also an attorney and politically active personality on other non-sports programs. Bruce Wolf is still on radio, and posts a video blog.
[clear]
Come back tomorrow for #6. Updated: Click here to go to #6
A News Sports Anchor is the person you usually see near the end of the news program giving out the sports highlights and scores for the day.  Only Chicago television news programs are considered. The programs can be found on WBBM 2, WMAQ 5, WLS 7, WGN 9(including CLTV), WFLD 32 as the morning, afternoon, daytime, evening, nightly, or various weekend news.
For More Great Chicago Sports Content
Follow us on Twitter at @chicitysports23 for more great content. We appreciate you taking time to read our articles. To interact more with our community and keep up to date on the latest in Chicago sports news, JOIN OUR FREE FACEBOOK GROUP by CLICKING HERE