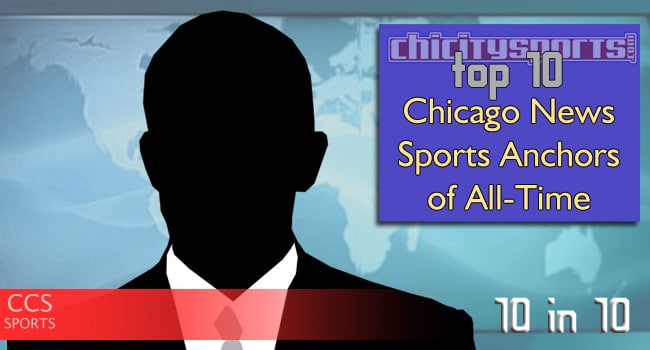 Welcome to the ten best Chicago News programs, sports anchors of all time. The 10 in 10, where we'll release a new person in the ranks every day for the next 10 days. The list is determined by a number of factors, all of which have been well researched. We don't aim to discriminate, however, this particular list is an all-time list, and only a few were consulted under the age of 30.
Most input came from the 30-60 demographic of lifelong Chicagoland natives, with extreme bias taken into consideration from any source. For instance, the most popularly watched news in this survey consisted of Channel 7 WLS, therefore making it a factor in judging. However, with most anchors, they bounce around networks as their appreciated work becomes recruited for new contracts at different stations. Even the Channel 7 loyalists know who they miss the most when they leave. Make no mistake, the survey also consisted of many impartial news watchers that did not care what was on the TV, as long as they caught their news.
A News Sports Anchor is the person you usually see near the end of the news program giving out the sports highlights and scores for the day.  Only Chicago television news programs are considered. The programs can be found on WBBM 2, WMAQ 5, WLS 7, WGN 9(including CLTV), WFLD 32 as the morning, afternoon, daytime, evening, nightly, or various weekend news.
Without further ado…
[divide style="3″]
#10. Greg Gumbel
[divide style="3″]
[divide style="3″]
[divide style="3″]
[divide style="3″]
[clear]
Greg Gumbel is more recognized for his work on national TV, covering various sports for CBS and NBC.  However, Greg got his start over on Channel 5, replacing another media legend, Dennis Swanson. Greg spent a full 7 years at WMAQ Channel 5, where he was the new school personality working with the dinosaurs, and I mean dinosaur in the nicest way possible.
Gumbel was a traveling salesman before auditioning for the job in 1975. He moved around a bit, but attributes growing up in Chicago where he attended De La Salle Institute, along with his younger brother, Bryant.

Greg left WMAQ to work for a then unknown and unestablished Entertainment and Sports Programming, also known as ESPN. Highlights include national coverage as a host on CBS's NFL Today. He also called a number of Superbowls from both seats, as well as covering NCAA Basketball tournaments.
[clear]
Come back tomorrow for #9.  Updated: Click here to see #9
For More Great Chicago Sports Content
Follow us on Twitter at @chicitysports23 for more great content. We appreciate you taking time to read our articles. To interact more with our community and keep up to date on the latest in Chicago sports news, JOIN OUR FREE FACEBOOK GROUP by CLICKING HERE