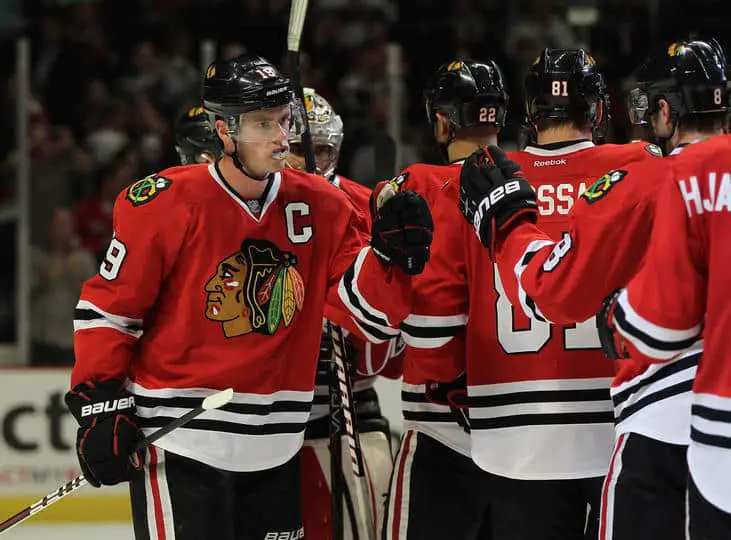 The Chicago Blackhawks were very streaky in the month of November, but still found themselves sitting tied for first in the Western Conference as they headed into December. This month, the Blackhawks played their best and most consistent hockey they've played all season long.
Chicago started out the month of December with back-to-back wins against the Islanders and Blues.
A couple days later, Corey Crawford was pulled in the second period against the Phoenix Coyotes after allowing 3 goals in just 16 shots. The Blackhawks rallied after that scoring three straight goals in the same period and ultimately pushed the game to go into a shootout where the Coyotes won 4-3; Ray Emery was credited with the loss even though he did not allow a goal in regulation/OT.
Head coach Joel Quenneville decided to ride with the hot hand and give Ray Emery the next start after a strong relief appearance in his previous game. He went on to win the next 5 games for the Blackhawks, including three straight overtime or shootout wins against the Islanders, Sharks, and Wild.
Ray Emery's win streak ended in Pittsburgh where the Blackhawks fell short of a third period comeback losing 3-2. Chicago hosted Montreal the next night and because of that, Joel Quenneville turned back to Corey Crawford to regroup against his hometown team. People feared he may have lost his confidence? He didn't look rusty one bit. In the Blackhawks 5-1 win vs the Canadiens, Crawford was named the #1 star of the game stopping 20 of 21 shots.
In the last 3 games of December against Columbus, Los Angeles, and Detroit, Crawford only allowed a combined total of 5 goals. Since he took over the net again vs Montreal, Crawford has stopped 119 of his last 125 (.952 save percentage) and has posted a 3-1 record.
Goaltending was an all-around positive receiving contributions from both Crawford and Emery and without their strong outings every night, Chicago wouldn't have won the 10 games they did in the month of December.
Marian Hossa had a monster month notching 8 goals and 9 assists in just 13 games while posting a +13 rating. He now leads the team with 41 points and a +23 rating for the season. But Hossa wasn't the only Blackhawk that had an impressive month. Patrick Sharp not only celebrated the birth of his first child, but he also registered 15 points (8 goals, 7 assists) including two back-to-back game-winning goals against the Islanders and Sharks.
Viktor Stalberg is showing great signs of confidence as he went through a stretch of scoring 7 points in 4 games, including a game-winning goal against Columbus. The stars really came to play in December and because of that, it allowed guys like Stalberg to breakout.
Because Marcus Kruger has been out several games with a concussion and Dan Carcillo has missed a chunk of games with an upper-body injury this month as well, we have seen action from several young guys in Rockford such as Brandon Pirri, Jeremy Morin, and even Jimmy Hayes. They filled in their roles pretty nicely and it's nice to know they've had a taste of some NHL action this year in case of injuries that occur down the line.
Overall, the Blackhawks were receiving tremendous performances from both goaltenders and because of that, they finished 10-2-1 in the month of December on top of having an astounding +16 goal differential. As of the morning of December 31th, Chicago is looking down at every NHL team in the standings riding high with 52 points.
For More Great Chicago Sports Content
Follow us on Twitter at @chicitysports23 for more great content. We appreciate you taking time to read our articles. To interact more with our community and keep up to date on the latest in Chicago sports news, JOIN OUR FREE FACEBOOK GROUP by CLICKING HERE