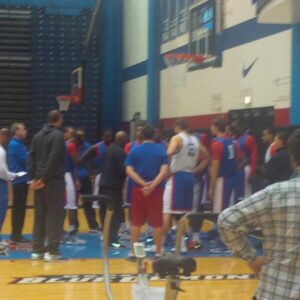 CHICAGO- There's a newfound energy at the McGrath-Phillips Arena in Lincoln Park this time of year, which means that DePaul Basketball is on the horizon. Every year there is always anticipation, excitement, aspirations and hope. Unfortunately as has been the case numerous times in the past, hope and determination doesn't always translate to success for DePaul men's basketball.
Especially considering the miserable season they had last year. The offseason got off to a rocky start after five players (some of them were key players) transferred to other schools. Forwards Donnavan Kirk (starter), Moses Morgan (dependable shooter), Derrell Robertson Jr. (Kirk's backup), Montray Clemons and guard Jodan Price decided to look for opportunities elsewhere.
These transfers were very disheartening because all five of those men were expected to be major players on this years team. Then there was the major change in conferences for DePaul which at first had brought uncertainty upon the program. Once we got closer to the summer, things were finally starting to look up.
First there was the announcement of the new basketball arena scheduled to open in 2016. Then Oliver Purnell and his staff started to make some headway in the recruiting department. First there was the signing of guard R.J. Curington who played his high school basketball at the famous Oak Hill Academy in Virginia.
Then came local recruits in forward Thomas Hamilton Jr. followed by guard Billy Garrett Jr. Local recruiting had been a struggling point for Purnell since his arrival in Lincoln Park in 2010. Tapping into the local market is key for any Chicago area school (ask UIC and Northwestern), being able to finally pull recruits in this market will help Purnell in the long run.
Another boost in the talent pool came in the form of transfers. Former Illinois talent Myke Henry, and former Purdue big man Sandi Marcius (Mar-chooch) will add much needed depth, size and shooting ability. Speaking of size, that attribute is something that DePaul had lacked for many years. It was also one of the biggest problems that had plagued DePaul the previous two seasons. Especially when the Blue Demons played against teams like Connecticut, Syracuse, Georgetown etc.
Now, size is no longer an issue as the Demons have six players that measure 6-8 or taller. Those players are as follows….. Senior forward Cleveland Melvin (6-8), the aforementioned Sandi Marcius (6-10), junior forward Greg Sequele (6-9), sophomore forward Peter Ryckbosch (6-9), junior forward Forrest Robinson (6-10) and the aforementioned Tommy Hamilton Jr. (6-10). The expectations are that rebounding, defense and interior play will significantly improve from here on out.
Another advantage that DePaul has is an influx of youth to go with it's seasoned veterans. There are seven underclassmen on the current roster who will eventually become the future of the program. One of those underclassmen is sophomore swingman DeJuan Marrero, who missed all of last season with a knee injury. The injury kept him from taking the court as a freshman. Now in his second year, he will finally get his chance to make his presence felt.
Then of course there is DePaul's "Big Three" consisting of Cleveland Melvin, junior forward Jamee Crockett, and senior point guard Brandon Young. They are the captains of this year's team and it will be up to them to push this team in the right direction. Last year, they all averaged 16 points per game.
With more depth and better talent from top to bottom, Young can concentrate more on being a true point guard. Last year the Baltimore native took too many chances when the chips were down. He took unnecessary shots, was overly aggressive on defense and tried to force things when his team fell behind in games. Hopefully now he won't have to worry about that anymore.
With more size available in the paint Cleveland Melvin can continue to do what he does best, stick to what brought him to the dance. The only thing No. 12 needs to improve on is his perimeter game. What makes Crockett so special is his clutch shooting. While his skill in that regard is a major asset to the team, he needs to be a more consistent scorer and more complete player.
Individual needs aside, the Blue Demons need to make team improvements as well. The biggest need to improve on is their play inside the paint. Now that DePaul has more big men on the roster this area should be fixed within the first few games. They also need to step up their second half defense. Last season Coach Purnell's unit was outscored 821-712 in the second half of all 21 losses. They must also do a better job of sustaining leads.
During the 2012-2013 season, DePaul lost 10 games by 10 points or less all because of blown leads in the second half. If DePaul can improve on in all of these areas we could see the programs first 20-win season under Oliver Purnell. Having an easier schedule with the new conference  should be a major assist. There's no more UConn, Louisville, Notre Dame, Syracuse and Rutgers to contend with anymore.
Granted that Georgetown, St. Johns, Marquette, Providence, Seton Hall and Villanova are still around, but this time the talent matchup should be a little more even. We will see what these new look Blue Demons are made of when they take the court for their exhibition game against Lewis University next Tuesday night. They open the regular season on November 9th against Grambling State.
Before Tuesday's practice head coach Oliver Purnell spoke to the media:
As did Cleveland Melvin:
So did Brandon Young:
I also spoke one-on-one briefly with Coach Purnell:
Here is some practice footage:
Follow me on Twitter @GabeSalgado82
For More Great Chicago Sports Content
Follow us on Twitter at @chicitysports23 for more great content. We appreciate you taking time to read our articles. To interact more with our community and keep up to date on the latest in Chicago sports news, JOIN OUR FREE FACEBOOK GROUP by CLICKING HERE