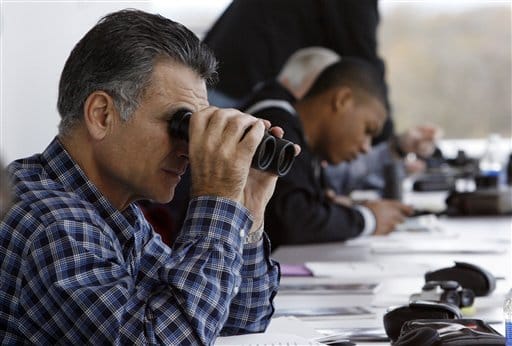 With the release of Mark Anderson, the Bears seem to have a new level of accountability for the players on the field. First came the benching of Tommie Harris, then the benching of Zack Bowman mid-game, then Anderson. I have to admit it's a nice change from the norm, you know, the norm where Lovie refused to admit that certain players just can't get the job done while more talented ones ride the pine. You know the one where they ship off more talented players in favor of some 2006 nostalgia.
The one thing that confuses me is how all this doesn't simply shed more light on the ineptitude of General Manager Jerry Angelo. Also confusing: how he is still employed by the Chicago Bears?
I'm sure I'm not the first to do this, but let's take a trip down memory lane and re-visit Jerry's draft history. Go ahead, take a peek at that. Soak it in. In the first round since 2002, when Jerry made his first pick with the Bears he has drafted the following players: Marc Colombo (Cowboys), Micheal Haynes (hasn't played since 2005), Tommie Harris, Cedric Benson (Bengals), no 1st round pick in 2006, Greg Olsen, Chris Williams, no 1st round pick in 2009, no first round pick in 2010.
No let's compare that to the Indianapolis Colts, the team that beat our beloved Bears in the 2006 Super Bowl. Those same Colts have won 99 games since 2002 while the Bears have won 63. Here is a list of their first round picks since 2002: Dwight Freeney, Dallas Clark, no 1st round pick in 2004, Marlin Jackson, Joseph Addai, Anthony Gonzalez, no 1st round pick in 2008, Donald Brown, Jerry Hughes.
While clearly the Bears draft issues go further than the first round and the Colts success goes deeper than just their latest drafts, the Bears draft is loaded with three busts for every late round discovery of talent. If you can, find the part since 2002 where Jerry addresses the offensive line.
Now the Bears find themselves in an odd and frustrating predicament in 2010. They finally have the franchise quarterback (or at least they think they do) they have longed for, yet they can't protect him. The New York Giants exposed what most of us knew was a less than quality offensive line, and that same offensive line is a product of the draft history of Jerry Angelo. Neil Hayes of the Sun-Times writes,
"Angelo showed a commitment to the offensive line in his first draft with the Bears when he spent a first-round pick in 2002 on Marc Colombo, who was released after three injury-plagued seasons. Since then, Angelo has drafted 10 offensive linemen, only two of whom remain on the roster, and we still don't know whether Chris Williams or [J'Marcus] Webb can play."
His commitment to defense approach has produced this,
"…with Tim Jennings replacing Zack Bowman against the Giants, Danieal Manning and Chris Harris were the only remaining defensive starters against the Giants who were drafted during the Angelo-Lovie Smith era."
This level of accountability is nice to see, but I can only wonder how Jerry Angelo himself isn't being held accountable for giving the best quarterback in Bears history absolutely nothing for protection and nothing to throw to.
In this age of accountability at Halas Hall, how does it not apply to Jerry as well?
For More Great Chicago Sports Content
Follow us on Twitter at @chicitysports23 for more great content. We appreciate you taking time to read our articles. To interact more with our community and keep up to date on the latest in Chicago sports news, JOIN OUR FREE FACEBOOK GROUP by CLICKING HERE