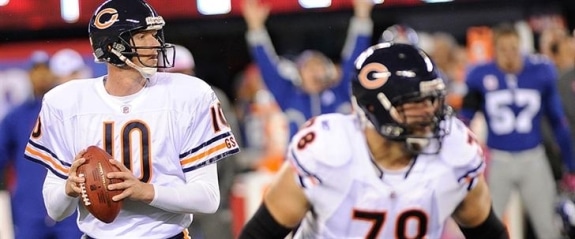 Bears fans, do you remember the glory days? The Super Bowl days? The days when the defense was the Monster of the Midway? Do you remember?
Do you remember the dialed down offense, the quarterback, entrusted only to manage the game, to now screw it up to try not to lose instead of trying to win? Remember when they just let the defense do their job, when they let the offense get on the field and quickly get off having given the Bears the advantage in the field position game with "MVP" Brad Maynard. Remember when our greatest weapon was the greatest show on special teams? When we knew that at any moment he could bring one to the house, maybe even two?
That was your 2006 Chicago Bears. That is also your Chicago Bears for Sunday, October 10th, 2010. Of course the difference here is that, hopefully, this will only be a one week experience versus a season long roller coaster. The other difference, and the one I find even more interesting is one that Dan Bernstein from 670 The Score points out.
"One consequence of Jay Cutler's concussion is the chance that Sunday's game helps us learn what the Bears really think of their offense, and offense in general.

Upon first glance, the strategy for Sunday looks obvious:  back it down from high heat to a simmer with runs, screens, slants and three-step drops.  Play field position and clock, trust your defense to let Robbie Gould score (or maybe get some points on its own), and get the hell out of there with the win.

But nothing is obvious when Martz is involved.  He couldn't be prouder that he helped make a possible Hall-of-Famer out of Arena refugee Kurt Warner after Trent Green was injured, and he may have learned the wrong lessons from that story.  To him, players are machines that carry out specific responsibilities demanded by his system, and he relishes the chance to earn credit for piling up points regardless of who is involved."
What I find most interesting about the quote above is the second paragraph, most notably that first sentence. Because haven't we (the collective we) been sorta thinking that would be a good strategy for the last three weeks? Didn't a lot of us thing that the "runs, screens, slants and three-step drops" looked pretty good against Dallas? Didn't many of us think that's how the Bears should have attacked the Packers, the Giants? Even that Giants game was a game until after halftime, believe it or not.
This weekend I would like to believe the Bears could win with Henry Burris at quarterback, because the Panthers come into this game completely one dimensional. Without Steve Smith the Panthers have only their running game to rely on. Worried about Jimmy Clausen? See what Jon Greenberg had to say about that,
"Football Outsiders ranks quarterbacks by a stat called DYAR (defense-adjusted yards above replacement), which is explained as 'the value of the quarterback's performance compared to replacement level, adjusted for situation and opponent and then translated into yardage.'
For instance, Peyton Manning's DYAR is tops in the league at 712 and Kyle Orton is second at 518. Cutler, after last week's hit parade, is 19th at 90. Clausen is 32nd at -113, in between Dennis Dixon and Derek Anderson. He's 29th in quarterback rating, again ahead of Anderson, who was benched for this week in favor of another rookie, Max Hall."
It's the perfect week for Cutler to rest his concussed head, the matchup in my opinion couldn't be better. The question isn't whether the defense can do their job. I believe they can and they will. The question I can't wait to have answered is whether Mike Martz can truly dial back his style and give the Todd Collins led Bears their best chance to win.
We've seen the Bears make adjustments this year unlike any other year under Lovie Smith. Now it's time to see if Mike Martz, who is nothing if not stubborn, can make a huge one that will get the Bears to 4-1 and keep them atop the NFC North.
Follow me on Twitter: @ChiCityRex
Visit the Chi City Sports  forum to discuss all your favorite Chicago teams
For More Great Chicago Sports Content
Follow us on Twitter at @chicitysports23 for more great content. We appreciate you taking time to read our articles. To interact more with our community and keep up to date on the latest in Chicago sports news, JOIN OUR FREE FACEBOOK GROUP by CLICKING HERE