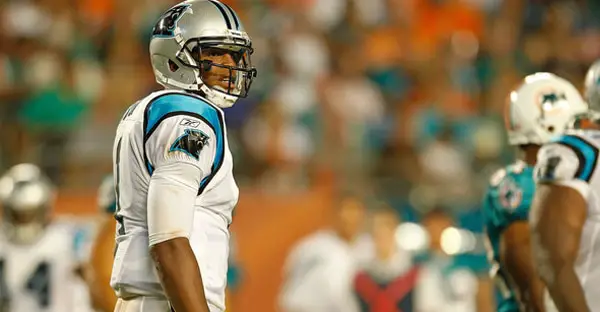 OK, so week 3 went off like announcing you're gay at a Homophobe convention.  Not well.  They didn't attempt to run the ball much, and when they tried, they simply couldn't. Jay ran for his life, Martz treated him like an ex-wife he REALLY doesn't like by calling the same plays over and over and over again.
Well, just in time for us, here come the Panthers and their young QB to get us back to .500 ball.  The Bears absolutely must deal with the Panthers, they simply cannot fall to 1-3.  If they do, the season might just be over for our beloved Bears.
There are a lot of interesting tidbits about this game, you've got coach Rivera going against his old team, you've got Olsen, Peppers, and Harris all going against their old teams, but I don't want to focus on that.  They'll be up for this game, for sure, but they aren't the question marks, in my opinion.
If the Bears can contain Steve Smith, he of the 12 catches for 218 yards and 2 TDs in their only match-up that's mattered, then they should be okay.  The Bears will stop the run, it's what they do, so assuming Chris Harris is back and healthy they should be able to keep everything in front of them.  The cover-2 shell, as most people know, is designed to limit the long-range damage a QB can do, instead forcing them to dink and dunk their way down the field.  Most QBs simply aren't good enough to do this, which is why the Bears D is good at creating turn overs and limiting TDs in the red zone.
All that said, Cam Newton.  The kid has a great arm, is mobile, and thus far, when he's not playing in a biblical-level flood, he's thrown for more yards than anyone not named Tom Brady.  The thing is, though, he hasn't really faced any tough defenses yet.  He hasn't tasted the field with a 330 lb behemoth sitting on his back.  And until he does, he'll continue to "play fast" as he has thus far.  But, Mr Newton, allow me to introduce my main man Julius Peppers to you.  He's the guy who will chase you around all day, harassing you, beating you up, pissing off your RBs and TEs since they have to stay in and chip but are ineffectual.
I look for the Bears to have a big bounce back game here.  I look for the Bears to beat the Panthers by a comfortable margin, I'd say somewhere in the neighborhood of 14-17 points.  If this doesn't happen, I'll be looking for the whiskey bottle to toast another season gone.  The keys for a Bears victory are as follows:
Limit Cam Newton's ability to scramble and "create" plays.  Make him pay for leaving the pocket.
Lockdown Steve Smith.  If they can't, and Newton gets free of the pressure, look out.
RUN THE BALL AT LEAST SOME.  Please.  I'm begging you.  60-40?  Is that too much to ask?
Protect Jay.  Give him time to throw the ball.  Roll him out, let him throw on the run.  He's got the arm and the mobility, don't force him to be a pocket passer.  And would it kill you to hike it to him in the shotgun every now and then?  Humor me.
No mistakes on offense.  No passes bouncing off your facemask, right Knox?  No balls through your hands, Roy.  Run the right route and fight through the jam, Devin.
All in all, this game is coming at a perfect time.  There's no such thing as a sure thing in the NFL, but if the Bears play to their ability level, they should handle the Panthers easily.
Final Score:  Bears 31, Panthers 14.
*Check out the Bears Forum on CCS and r/CHIBears Community on Reddit. 
For More Great Chicago Sports Content
Follow us on Twitter at @chicitysports23 for more great content. We appreciate you taking time to read our articles. To interact more with our community and keep up to date on the latest in Chicago sports news, JOIN OUR FREE FACEBOOK GROUP by CLICKING HERE