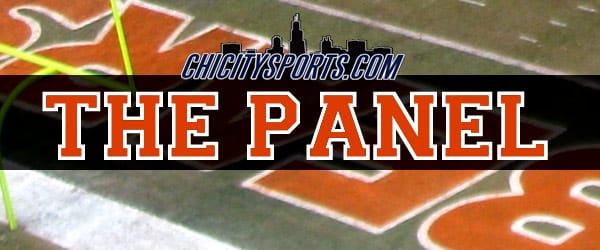 Welcome to the reincarnation of the Chicago Bears Panel for ChiCitySports.com! After a brief hiatus and some technical errors, we are back and better than ever!  This edition will cover thoughts on Cutler, Forte, Sanzenbacher and others.
The Panel consists of ChiCitySports Staff members.  All are fans and experts who follow the Bears religiously.
With all the issues surrounding the offense, is Jay Cutler losing confidence in himself and/or his teammates on the offense?
Crys:  Cutler shuts down on himself a lot. If he's frustrated, it shows on the field. This season, times have been tough for him, and the whole team, but Jay hasn't shut down like he has in the past. He might not be happy with the offensive situation, but he sure is doing a great job of keeping his head up(at least through 3 games.) This opinion might change before week 5!
TCF:  Jay Cutler has definitely lost confidence in his offensive teammates. The good thing is that the lost confidence can be regained by having a good game.
UMan:  With the constant pressure that Cutler seems to get from opposing defenses, you have to think that he is losing confidence in his offensive line. Especially in an offensive scheme that employs a 7-step drop, that leaves him less than 2-3 seconds to first find an open receiver and make the play or throw the ball away. That's asking a lot for any QB, let alone Jay. I don't think Jay is losing confidence in himself. He may be frustrated at some of the overthrows he's made, but when he can't get solid footing in the pocket prior to throwing, his accuracy is going to suffer.
Zack:  I feel like Cutler is losing a bit of confidence in himself. I don't blame him at all though. The offensive line is horrendous. With no run game, and lack of production from receivers, I'd be frustrated too.
Rush:  I think he is losing confidence in his teammates definitely. Whether it's the drops or lack of protection. When you experience the same struggles for 2+ seasons, that is when it starts to eat away at your confidence. With two starting offensive linemen out, how can you have faith in an offensive line that couldn't block the sun if they were wearing SPF 100?
Wide receiver Dane Sanzenbacher has been a surprise since the beginning of training camp and has had a nice start to the season with a couple touchdowns in the first three games. Can Sanzenbacher become a reliable option for Cutler all season?
Crys:  Dane looks really good so far. I'm cautiously optimistic about his potential, because Cutler does have hot flashes with his current favorite receiver. Aromashodu was a past Cutler favorite, and once his usage went up, he disappeared. At a bare minimum, I hope Sanzenbacher just takes the game, one snap at a time and doesn't fall out of the scheme of things when his usage does go up. He has a chance to be that solid option here or even better. With a name like Sanzenbacher, the kid needs to earn a legit nickname on the field soon!
TCF:  Sanzenbacher will be a reliable option for Cutler all year. When Bennett comes back, he won't be used as much but Cutler has already built a good relationship on the field with Sanzenbacher. That's how Cutler is. When he likes someone, he throws to them. Sanzenbacher could take the place of Greg Olsen receiving-wise.
UMan:  Can he? Yes. Will he? It seems likely, especially with the lack of a pass-catching TE in Martz's offense. After trading Olsen in the offseason, it's opened up a big opportunity for quick slant patterns and Sanzenbacher looks like he could emerge as the player to fill the void left by Olsen. Forte is also an option coming out of the backfield. We saw that in the New Orleans game, but Green Bay really focused their D on stopping Forte last week. As teams start to key in on Forte, it should open up the field for Sanzenbacher to have a decent percentage of looks in the offense.
Zack:  I like Sanzenbacher, but I feel like he's the fourth or fifth best receiver on the team. I think he can contribute, but he's obviously not a star. A reliable option for Cutler this season is possible. He just needs a few more looks, especially in the red zone.
Rush:  He'll be a reliable option but, I expect it to remain at that. He isn't very physical and often gets bumped off routes easily by more physical defenders. He can easily be taken out of a game by playing physical. If the Bears had a Calvin Johnson type WR to take the focus of the attention solely, allowing Sanzenbacher to sneak in catches underneath and get behind some DB's, it would benefit him greatly. Without anybody to take the focus away from him, he can easily be shut down. I do like his ability to find the zone and settle down.
Should Lovie Smith pull Mike Martz aside, like last season, and tell him that they need to go back to a balanced offense and quit it with all the throwing and seven step drop plays that's getting Cutler killed?
Crys:  I'm sure it happens. I'm sure the coaches have daily meetings and they discuss what needs to happen to get this team jump-started. The real problem isn't whether or not Lovie should pull Martz aside, it's whether or not the players still have faith in Mike Martz's play-calling. After 3 games, I'm worried that the coaching staff is losing some respect from their players, at least on the offensive side of the ball. Mike Tice shouldn't be getting a free pass either. And then if you keep going down the path here, the front office really takes a lot of the blame so far. So in the end, I'm sure the coaching staff is talking about everything, but Jerry can't provide them with the players needed to get to that next level. The season is still young, so I hope I'm proven wrong about the coaches.
TCF:  Yes, Lovie needs to step up and say something. Forte is a good runner, but isn't getting a chance to do that.
UMan:  A good coach will look after the players and should step in when he sees something going wrong. That being said, something needs to be changed on the offensive side of the ball for the sake of Cutler's season. If he isn't taking sacks, he's getting knocked down and he's constantly taking hits. That will wear on you over the course of the season. He's going to wear down if he doesn't get some protection of some sort.
Zack:  A more balanced offense is key to the Bears success this season. The past two games have been badly balanced.   Lovie needs to talk to Martz and figure out the direction they are taking this team.
Rush:  Yes. There is no excuse for running the ball 9 and 11 times. That should be how many carries Forte gets per quarter, not per game.
Where does Matt Forte rank right now among starting RBs in the NFL?
Crys:  As a scrimmage receiver, he might be the best player in the NFL. As a running back, he's not making the plays consistently. Sure, you can blame the play calling, and trust me, I do get that. But when I see a defense practically ready to protect the pass(thanks to the Martz experiment) and Forte has his shot, you can bet that the defense isn't exactly adjusting for the Bears running game.
Forte had 3 tough opponents to go up against, so maybe we can overlook what he has done when given the chance. But the Bears definitely need more consistency from RB, and so far, Forte has been pretty average when rushing.
TCF:  He's one of the best and probably in the top 10. He's very underrated, but if he is actually given a chance to run he can be a very good running back.
UMan:  Matt Forte has emerged as a top back in the NFL. He hasn't reached the elite category, but he is a very good talent. He can slip through the tackles and break to the outside, but his downfall is that he can't create plays by himself. The elite like Adrian Peterson and Ray Rice have great field vision and are explosive playmakers who can turn nothing into something in a matter of seconds. If I had to rank Forte at this point, he'd be in my top 10, just outside my top 5. He's a great running back who the Bears need to do sign to a long-term contract as soon as they can.
Zack:  Forte is a unique back. I wouldn't say he's a top five back rushing in the NFL, but overall he's close. A very big threat in the receiving game is what makes Forte deadly. There's still running backs I'd put in front of him, including AP, Run DMC, MJD, CJ2K,Turner.
Rush:  Top 5 easily. His production is unmatched coming out of the backfield catching passes. He is 2nd in the NFL in receptions behind Wes Welker as a Running Back. If he was behind a DECENT offensive line, you could make a case for him being Top 3.
Which move in the offseason did you like the most, and which did you like the least?
Crys:  Seriously? What was there to like? The Bears absolutely failed this off-season. I guess if I had to choose, I'm glad Chester Taylor was cut, and Marion Barber was brought in. I know those weren't big moves, but it was the only sensible move made. With our luck, Barber will be a pre-season stud, and choke all season, but I hope that's not the case. Mostly everyone here is going to poke fun at signing Roy Williams. I don't like Roy Williams, considering how long the Bear's waited, his signing wasn't absolutely terrible. The terrible move was sleeping on every WR in front of him!!!
TCF:   The one I liked the most was signing Sanzebacher after he slipped through the draft. The one I liked the least was getting rid of Olsen, and then getting a tight end who couldn't block. I was okay with getting rid of Olsen and getting a blocker because that's what the Bears needed. I'm not okay with the fact that they don't play a blocking tight end and instead play a guy who is like Olsen, but worse.
UMan:  Best move: Signing Brandon Meriweather. It may have been a week before the season, but Meriweather has shown that he is an impact player so far in his short 4-year NFL career. He brings intensity to the defense and is a feared, big-hitting safety that will rock any receiver that's in his tracks. I think this signing will pay dividends for the Bears secondary.
Worst move: Signing Roy Williams. It may be early, but everything that Williams has done this season has been a negative in my book. From claiming he's out of shape to running his mouth to the media about his lack of production and his drops in preseason. He simply doesn't live up to the hype that surrounds him.
Zack:  It might be a shocker, but the move to get Brandon Meriweather was my favorite. It gave us some depth at the Safety spot, which is needed now.
The least likely is losing Greg Olsen. Kellen Davis is a big target for Cutler, but overall Olsen is a better tight end.
Rush:  The best move of the off-season for me was signing Amobi Okoye. It's hard to truly judge since he's shown the only upside of any of the free agent signings. Chris Spenser has been less then stellar, Roy Williams has yet to make an impact, Barber hasn't played a snap yet, etc. Okoye already already has a sack on the season and a couple big run stuffs for losses. He's definitely been the best. Least favorite signing is Roy Williams. We really should have went after Mike Sims-Walker or another WR because Roy is a big physical WR that has the physicality of a feather. I still cannot believe he dropped that slant against Green Bay in the end zone. You're 6'5" dude…play like it!
We've got a great group of posters here at ChiCitySports, and the five writers involved in this panel are regular contributors to the site.  Feel free to view the forum and sign up here if you'd like to leave your comments, or maybe grow into a CCS writer yourself!
For More Great Chicago Sports Content
Follow us on Twitter at @chicitysports23 for more great content. We appreciate you taking time to read our articles. To interact more with our community and keep up to date on the latest in Chicago sports news, JOIN OUR FREE FACEBOOK GROUP by CLICKING HERE