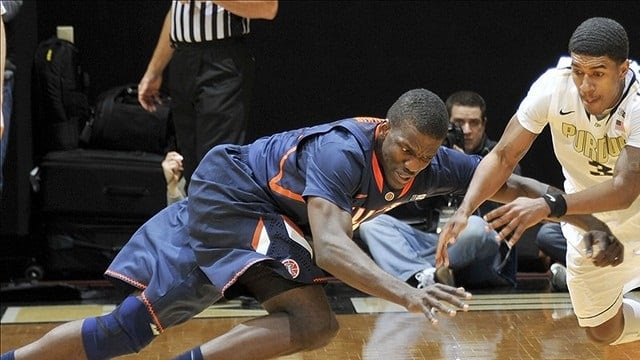 Toughness and Togetherness. This motto has been the driving force for the Fighting Illini this season. Every practice, every game, each player has had a "TNT" wristband strapped across their wrist. A constant reminder of what they strive for. It's been the theme for Illini this season—and also their downfall.  As the Illini head back to Champaign to face the #8 Ohio State Buckeyes after suffering a deflating loss at Purdue on Wednesday, toughness should be their main concern.
After starting the season 12-0, the Fighting Illini have dropped two of their last three games, with their lone win coming in a un-spirited two point victory over Auburn. It's not reassuring starting Big Ten play 0-1 after finishing 6-12 in the conference last season, especially heading into back-to-back games versus top ten opponents in #8 Ohio State and #9 Minnesota. As the sample size for new head coach John Groce continues to expand, we can begin to weed out the weaknesses of the team. It's not much of a surprise that as a team that relies on their perimeter play their biggest weakness is banging inside. And that couldn't have been more evident in the waning moments of the Purdue loss.
After trailing by ten with 2:40 left, the Illini leaned on their aforementioned three point shot to cut it to a 63-61 Boilermaker lead with 21.5 seconds remaining in the contest. With sophomore Jacob Lawson shooting his second free throw after missing the first, the definitive moment of the game occurred. Lawson missed long on his second free throw and an unblocked D.J. Byrd corralled the rebound, on his knees no less, and called a time out while teetering on the brink of falling out of bounds. This wasn't anything new to the Illini. Both of the team's losses this season have come against superior rebounding teams. Missouri is first and Purdue is 13th in the nation in rebounds per game. The Illini were outrebounded by 29 total rebounds in both losses. You can blame this on the Illini's lack of size, but you'd be wrong. You can argue it was a lucky bounce for Purdue in that play, but when you break it down, it's evident there was much more than luck involved.
6'8" senior Sam McLaurin was assigned to box out 6'5" senior D.J. Byrd. McLaurin simply got outworked. McLaurin backed into Byrd but failed to shift his body weight to force Byrd away from the basket, which actually caused McLaurin to fall as Byrd dove for the ball. Interestingly enough, senior Brandon Paul was also assigned to box out Byrd, but failed to get his body in front of him. Paul lazily stuck his arm in front of Byrd, failing to stop his momentum. For both McLaurin and Paul, they were caught staring at the rim instead of worrying about their assignment. On the next play, Byrd received the inbound under the basket and sophomore Joseph Bertrand failed to foul him before the shot went up.  Byrd finished through the contact and earned an and-one, successfully putting an end the Illini's comeback efforts in the process. On both definitive plays at the end, it was clear that Byrd outworked and outhustled the Illini. And maybe even more prominent, a lack of toughness was at play.
Let the Purdue loss be an example that each and every Big Ten game will be a battle, even against seemingly trivial opponents. The Fighting Illini can't afford to take any of their remaining opponents lightly. The Big Ten slate could either spell the end of the season or emerge as a blessing in disguise for the Illini. Quality opponents could lead to quality wins or quality beatings. Which fate Illinois chooses all depends on their attitude. Seniors Brandon Paul and D.J. Richardson need to lead by example and exemplify what their motto has been all along. Toughness and Togetherness. Now instead of just saying, Illinois must mean it.
For More Great Chicago Sports Content
Follow us on Twitter at @chicitysports23 for more great content. We appreciate you taking time to read our articles. To interact more with our community and keep up to date on the latest in Chicago sports news, JOIN OUR FREE FACEBOOK GROUP by CLICKING HERE