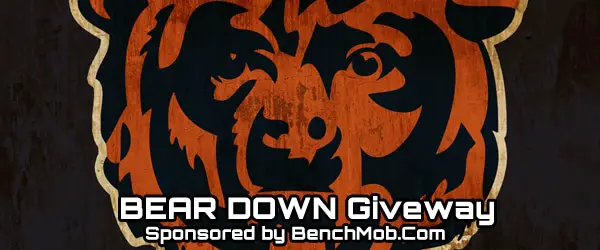 The Bears have a huge game coming up on Monday Night Football against the undefeated Detroit Lions. Being a division rival that's undefeated, it only adds to how important this game is. The following week we face the Minnesota Vikings. With two back to back division games, the Bears need to step up and get back in the race.
To celebrate these awesome match-ups, we're partnering up with the great folks over at BenchMob.Com to supply a giveaway to our awesome readers. The following are the 3 Chicago Bear designs that BenchMob offers. We'll be giving away 1 of each. My personal favorite being the Gabe Carimi "Bear Jew" shirt.
How can you enter to win these awesome T-Shirts? Here are the parameters to enter the contest.
Leave a comment on this telling us how you became a Chicago Bears fan.  
The following winners were selected…
Scoot26
Gabe
Nenan Lalic (BNB)
Thank you everybody for participating!
For More Great Chicago Sports Content
Follow us on Twitter at @chicitysports23 for more great content. We appreciate you taking time to read our articles. To interact more with our community and keep up to date on the latest in Chicago sports news, JOIN OUR FREE FACEBOOK GROUP by CLICKING HERE