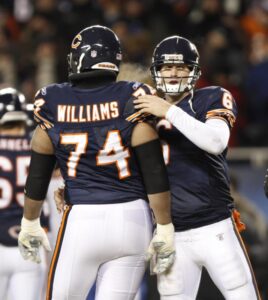 You don't know what you have until it's gone. That rung true about Bears long snapper Patrick Mannelly, who was out with a shoulder stinger as is expected back next week against the Cardinals. With Mannelly sidelined, Desmond Clark became the Bears long snapper and struggled right out of the gate. He had many low snaps, one Brad Maynard had to pick out and punt quickly. On a field goal attempt, he almost got Robbie Gould and Maynard destroyed. With his struggles, the Bears had to go for it on  4th down, which resulted in a touchdown with Johnny Knox burning his defender.
They even had to attempt a two point conversion on that drive, which was successful. Lance Louis sealed the edge which allowed Chester Taylor to convert and give the Bears a 14-13 lead.
The Bears started out the gate sluggishly, and the O-Line struggled. Outside Linebacker Kamerion Wimbley had 3.5 sacks and wreaked havoc on Chicago Bears left tackle Chris Williams. That is the same number that Orlando Pace allowed through 11 games last season. He consistently beat Williams around the edge with relative ease. With most of the focus on the Bears right side of the O-Line, where are the Bears if their left tackle can't pass protect?
It was almost a given that Williams would settle in as Cutler's blindside protector, but after tonight, no assumptions are safe. Even on the 22 yard touchdown pass to Johnny Knox, Cutler was flushed out of the pocket by Wimbley and he had to use his mobility to improvise. Williams did look good after he took over as the Bears left tackle last season, so it's not time (at least yet) to panic.
They struggled against Oakland's four-man rush and RG Lance Louis was inconsistent. He got beat badly by Raiders DT Tommy Kelly which resulted in a sack.  On the 89 yard touchdown run by Matt Forte, Louis showed good athletic ability and he pancaked his defender. Kellen Davis, Greg Olsen (Yes Olsen actually looked good as a blocker), and a pulling Olin Kreutz also had key blocks on that play as well. Forte looks like he has his speed back from his rookie season that was robbed from him after suffering a hamstring injury last offseason in addition to a sprained MCL during the season. He is the unquestioned starter for the Bears and anyone who says differently because Chester Taylor is making more is foolish.
There are more issues than just the offensive line. The Raiders, without running back Darren McFadden and wide receivers Chaz Schilens and Darrius Heyward-Bey, looked in regular season form with receivers running open in the secondary, with Jason Campbell finishing 10-20 for 170 yards. The secondary, especially the safeties, looked shaky during the 1st half.  Danieal Manning, starting at strong safety, struggled badly to cover receivers and got run over by Raiders running back Michael Bush. The Bears front four, outside of Julius Peppers, created little to no pressure on Jason Campbell.
The defense looked like the same defense that allowed 45 points to Cincinnati, 41 points to Arizona, and 31 points to Baltimore. The Raiders tore up the defense that has been run by Lovie, Bob Babich, and now Rod Marinelli. It's really the only way to describe a defense that allowed a 40 yard screen to a fullback on a badly failed blitz. The 3rd down defense looked as bad as last year's, which isn't a good sign for a team in a win-or-else mode.
Middle linebacker Brian Urlacher left with a calf injury and did not return, but Lovie Smith says that the injury is not serious.
While it may be the preseason, there are more questions than answer about this Bears team. The O-Line remains a major work in progress, and the regular season is only 3 weeks away.
For More Great Chicago Sports Content
Follow us on Twitter at @chicitysports23 for more great content. We appreciate you taking time to read our articles. To interact more with our community and keep up to date on the latest in Chicago sports news, JOIN OUR FREE FACEBOOK GROUP by CLICKING HERE