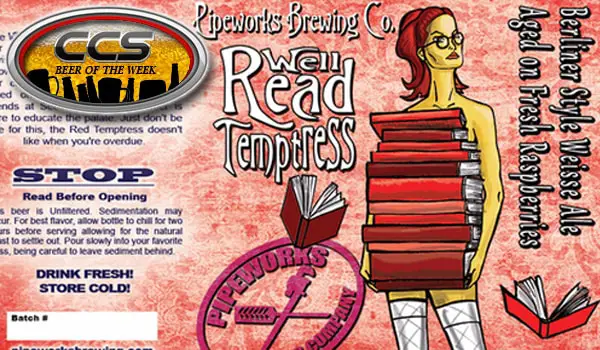 This week's BOTW: Pipeworks Well Read Temptress
This week I'm throwing you a curve ball. Take a look at that picture. Does that pink thing look like a beer to you? The majority of people will say, "no, that looks like a wine cooler". The majority of people would be wrong.
I don't drink wine coolers (unless I'm stuck on a desert island with a bad case of the shakes).
That pink beauty is the Well Read Temptress, a Berliner Weisse from Pipeworks. That sour beer sat comfortably on a bed of raspberries until it became a beverage that would be worthy of the sunniest of summer days or a compliment to the most decadent of desserts. Bright red in color with a thin pink head and lots of carbonation can be a turn-off to "tough guy beer drinkers", but this tasty treat is something that must be tried. This style of beer will push your beer résumé to whole new levels. This beer's bright and bubbly with sharp, tangy, and sweet raspberry notes. It leaves you with a light fruitiness in the finish and a subtle smile upon your face. At 4%, drinking the whole 750 isn't unreasonable, just don't drink it from the bottle. Though the girl on the label may be naked behind those books, she deserves your respect.
Enjoy your weekend!
For More Great Chicago Sports Content
Follow us on Twitter at @chicitysports23 for more great content. We appreciate you taking time to read our articles. To interact more with our community and keep up to date on the latest in Chicago sports news, JOIN OUR FREE FACEBOOK GROUP by CLICKING HERE