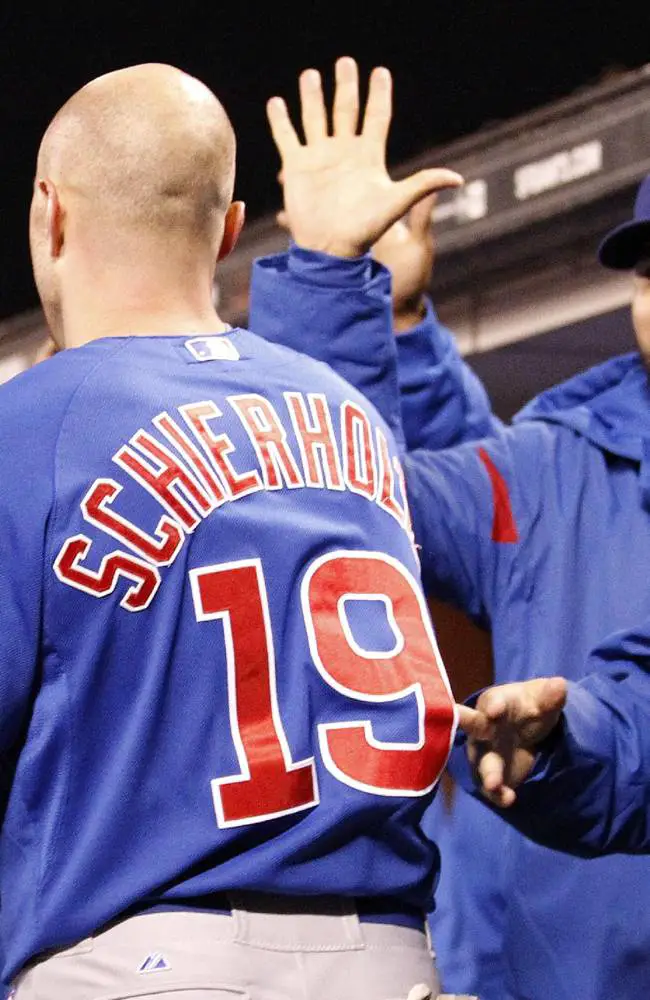 Final Score- Cubs (46-55) 3 Giants (46-55) 2
Win: Matt Guerrier (4-4) Loss: Sergio Romo (3-5) Save: Kevin Gregg (20)
Home Runs: None
Three Stars-Cubs
Third Star-Nate Schierholtz: The Cubs right fielder went 1-3 with a double, two walks and a run scored.
Second Star- David DeJesus: In just his second start since coming off of the DL, DeJesus also provided two hits, including a triple.
First Star- Edwin Jackson: The $60 million man is slowly turning his season around. Jackson surrendered just two earned runs, both coming in the seventh inning, and kept his team in the ballgame throughout. Up until the two run single, Jackson was in complete control of the Giants hitters. His ERA went down to 4.89.
Game Notes:
Starlin Castro and Welington Castillo also had two hits, both singles.
Castro had the only RBI.
The Cubs took a ninth inning lead after Anthony Rizzo hit a ball that went through the legs of Brandon Belt, scoring two runs. The Cubs were down to their final strike.
Matt Guerrier threw 1.1 scoreless innings and got the win.
Kevin Gregg struggled in the ninth but still came out with his 20th save. He has yet to record a 1-2-3 inning all month.
This was just the Cubs second win of the season when trailing after eight.
Three Stars-Giants:
Third Star-Pablo Sandoval: Neither team really had many standout performers in this one, but Sandoval had a double and a single and made a diving stop at third base that saved at least one run from scoring in the eighth.
Second Star-Jeff Francoeur- The new Giant had a pair of singles, but it was his bloop single in the seventh that drove in two and put the Giants ahead.
First Star-Matt Cain: Both starting pitchers in this game were excellent, but Cain may have the edge on Jackson. He allowed just one run over seven innings, striking out seven.
Game Notes:
Hunter Pence had the only other Giants hit, a double in the seventh. He also scored a run.
Pablo Sandoval and Brandon Belt each committed errors, with Belt's being the more costly of the two.
Sergio Romo was charged with a blown save despite not allowing any earned runs.
On the flipside of the Cubs record, this was just the Giants second loss after leading after 8.
Additional Notes:
The Cubs officially acquired RHP Corey Black for Alfonso Soriano.
Another late one tonight at 9:05. Chris Rusin faces off against Madison Bumgarner in a battle of lefties.
For More Great Chicago Sports Content
Follow us on Twitter at @chicitysports23 for more great content. We appreciate you taking time to read our articles. To interact more with our community and keep up to date on the latest in Chicago sports news, JOIN OUR FREE FACEBOOK GROUP by CLICKING HERE