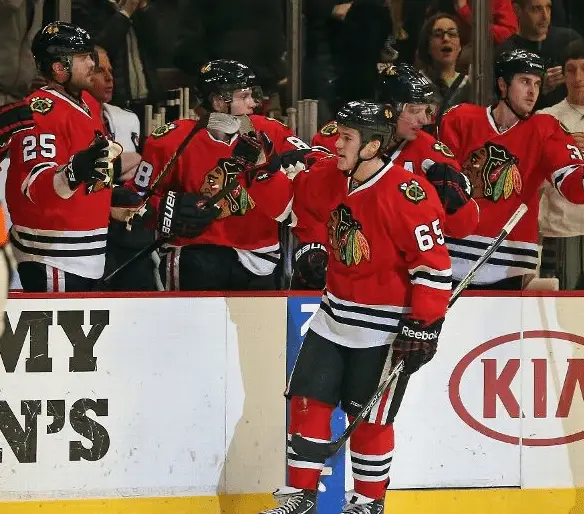 The Blackhawks drown the San Jose Sharks in their second meeting of the season by a final score of 4-1.
Chicago had several scoring opportunities early, but the highlight of the first period came when Jonathan Toews and Joe Thornton dropped the gloves late.
Toews was penalized with a five-minute major for fighting and two minor penalties for boarding and unsportsmanlike conduct.
The Blackhawks followed up a four-minute penalty kill with an even-strengthed goal when Dave Bolland toe dragged his way to the net then finished off the play with seconds winding down in the period.
Early in the second, the Blackhawks took a 2-0 lead after Marcus Kruger potted his third goal of the season on a fluky play when he flipped the puck towards the net that was mishandled by Antti Niemi and tapped in on the second try.
San Jose responded quickly after Tim Kennedy found the back of the net for the first time this year to cut the lead in half.
Chicago picked up a power play goal late in the second when Andrew Shaw was credited with the goal even though it seemed like a San Jose forward accidentally knocked it in.
Roughly six and a half minutes into the third, Niklas Hjalmarsson snapped a 49-game goalless drought with his first of the season to extend their lead 4-1, which would turn out to be the last of the night.
Patrick Kane increased his point streak to eight games and has recorded at least a point in every single game this season except one.
The Blackhawks registered 15 blocked shots led by Brent Seabrook and Johnny Oduya with four each.
Ray Emery earned his fourth win of the season stopping 27 of 28 (.964 save %) shots, including 12 in the final period.
Power Play: 1-for-5
Penalty Kill: 4-for-4
WHAT'S NEXT?
The Blackhawks clash with the defending Stanley Cup Champion Los Angeles Kings at the United Center on Sunday for Hockey Day In America; puck drop at 2:30pm CT!