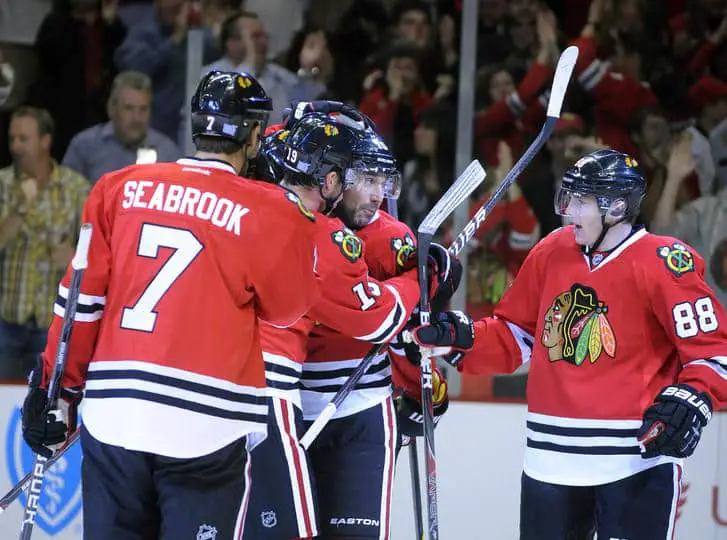 Goaltender Kari Lehtonen stole the show on Friday night for the Stars stopping 37 out of 38 shots beating the Blackhawks 2-1 in their season opener.
After a scoreless first period, Alex Goligoski opened up the scoring a minute into the second period rifling a shot past Corey Crawford's glove.
15 minutes later, Jamie Benn knocked home a rebound off of a Sheldon Souray blast putting Dallas up 2-0. 22 of the Blackhawks' 38 total shots occurred in the second period, but they just couldn't find the back of the net.
Nick Leddy finally cut the lead in half with 15 seconds left to play in the game, but by that time it was too late.
The Blackhawks struggled in their own zone frequently and just couldn't finish on a various amount of opportunities. The power-play was 0-for-4 and their penalty kill finished with a perfect 2-for-2. Duncan Keith led all skaters in ice-time with 27:13.
Revenge was less than 24 hours later where the Chicago Blackhawks would kick off their home opener.
Chicago jumped off to a quick start holding Dallas to just 2 total shots in the first period. The newcomers made their presence immediately known that began with a Jamal Mayers fight vs former Blackhawk Jake Dowell capped with an Andrew Brunette power-play goal less than 2 minutes later.
Dave Bolland and Jonathan Toews added to the Blackhawks lead in the second period putting them up 3-0, but Dallas quickly got one of those back.
The Blackhawks sealed the deal in the third period with goals from Patrick Sharp and another one from Dave Bolland (empty-netter) earning their first win of the 2011-2012 season by a final score of 5-2.
Chicago played an overall complete game Saturday night and received contributions from 11 different Blackhawks, including 3 of the newcomers (Andrew Brunette, Steve Montador, Sean O'Donnell). Corey Crawford made big saves at key times and the defense looked a lot more comfortable than it did Friday night. Blackhawks outshot the Stars 25-9 in the first two periods, finished with a 31-21 shot total difference.
WEEKEND NOTES:
Corey Crawford: 50 saves out of 54 shots (.926 save percentage)
Power Play: 1-for-12 (8%)
Penalty Kill: 6-for-7 (85.7%)
Goal differential: +2
Shots taken: 69
Shots allowed: 54
WHAT'S NEXT?
Chicago Blackhawks welcome former teammates Andrew Ladd, Dustin Byfuglien and the Winnipeg Jets to the United Center on Thursday night and finish off the weekend Saturday evening against the defending Stanley Cup champion Boston Bruins. Puck drops at 7:30pm CT for both games!
For More Great Chicago Sports Content
Follow us on Twitter at @chicitysports23 for more great content. We appreciate you taking time to read our articles. To interact more with our community and keep up to date on the latest in Chicago sports news, JOIN OUR FREE FACEBOOK GROUP by CLICKING HERE