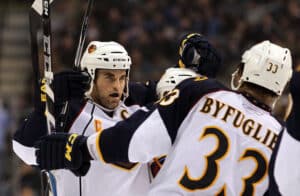 Two summers ago the Blackhawks were coming off their first Stanley Cup in decades. There was a parade down Michigan Ave and the Blackhawks were truly on top of the world. That wouldn't last for long though, as there was a lot of work to be done. New contracts were about to kick in, bonuses earned from entry level contracts were carried over, and the Blackhawks were well over the salary cap. Stan Bowman had a lot of decisions ahead of him and two of them involved trading Dustin Byfuglien and Andrew Ladd; both who will be visiting the United Center on Thursday. At this time, I'd like to take a look at exactly where those trades stand as the draft picks have been made, players have developed, new contracts have been handed out, and some players are no longer in the organization.
6/24/2010 – The Chicago Blackhawks traded Dustin Byfuglien, Ben Eager, Brent Sopel and Akim Aliu to the Atlanta Thrashers for Marty Reasoner, Jeremy Morin, Joey Crabb, a 1st and a 2nd round selection in 2010.
The first reaction that most fans had is that this is an interesting deal because the Blackhawks were able to get rid of Brent Sopel, who had a cap hit of $2.33Mil a year. Also, a lot of people would be upset because Byfuglien starred in the playoffs and became a fan favorite after putting Chris Pronger on his ass.
The trade currently stands as Byfuglien, Eager, Sopel and Aliu for Morin, Kevin Hayes (2010 1st round), and Justin Holl (2010 2nd round). Reasoner was quickly traded for Jeff Taffe, who eventually walked after a year with the Rockford IceHogs without the Blackhawks gaining compensation. Also, Crabb was not signed and never played for the Blackhawks or the organization. The Atlanta Thrashers later traded Eager and Sopel, while Byfuglien and Aliu are still within the organization.
Looking back at this trade, this was a win for the Blackhawks. Byfuglien switched from offense to defense (where the Blackhawks had no need for him) and quickly got a contract with a cap hit of $5.2Mil a year – which many people see as an overpayment for a defenseman who struggled much of last year and still has laziness issues in his own end. Aliu has continued to struggle and show character issues on the ice, the Blackhawks do not miss him. Morin is one of the top prospects for the Blackhawks and once he is injury free, should be one of the first IceHogs taking the ride down I-90 to the United Center. Hayes is a 6'2" power-forward who the Blackhawks have high aspirations for. Holl is a 6'2" defenseman that still needs to fill out his body, but has a high upside. All three of these prospects are ranked in the top 20 of the Blackhawks organization according to hockeysfuture.com. This trade worked out well for the Blackhawks as Byfuglien was inconsistent at forward, is now a defenseman that the Blackhawks couldn't use, has too high of a salary, and because of the great return that the Blackhawks got in the form of prospects.
7/1/2011 – The Chicago Blackhawks traded Andrew Ladd to the Altanta Thrashers for Ivan Vishnevskiy and a 2nd round selection in 2011.
This was one of the final trades that the Blackhawks had to make. Many fans felt it would be Ladd, Patrick Sharp, David Bolland, Niklas Hjalmarsson, or Antti Niemi that would be sent packing to get the Blackhawks under the cap. It ended up being both Ladd and Niemi, with an assist to the San Jose Sharks offer sheet on Hjalmarsson.
The trade currently stands as Ladd for Adam Clendening (2011 2nd round). Vishnevskiy, who was a big part of this deal and a former 1st round pick, played one year in Rockford and then bolted for the KHL where he signed a one year deal.
This trade ended up being a loss for the Blackhawks. Ladd was the exact type of player that the Blackhawks missed greatly last year. A nice blend of skill and grit, not to mention he can play left wing. Ladd is the captain of Winnipeg for a good reason. He is a winner and knows how to play the game. The only thing that works in the Blackhawks benefit is the large contract Winnipeg handed out to Ladd this past summer, one that I truly believe he wouldn't have earned with the Blackhawks. The Blackhawks have a glimmer of hope left in Clendening, who was ranked highly but fell to the Hawks. Clendening currently ranks as a top 10 prospect in the organization and has a nice future as an offensive-defenseman. While his size may hold him back, he continues to play well at Boston University.
Stan Bowman was forced to play with the hand that Dale Tallon had dealt him. Bowman did his best to get maximum return out of these playoff studs, and while time will tell if in fact these prospects either turn into stars or busts, right now I say Bowman is 1 – 1 with these two trades.
For More Great Chicago Sports Content
Follow us on Twitter at @chicitysports23 for more great content. We appreciate you taking time to read our articles. To interact more with our community and keep up to date on the latest in Chicago sports news, JOIN OUR FREE FACEBOOK GROUP by CLICKING HERE