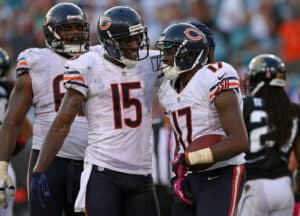 Brandon Marshall (15) along side Alshon Jeffery
Do you remember when Brandon Marshall said in the days following the preseason finale against Cleveland that he "didn't know his role in the offense"? Can you also recall on that same day when he said that his hip "isn't where I need it to be"? I remember it fondly, but I also believe it was a smoke screen. I believe it was a smoke screen because not only did Brandon Marshall start in the season opening victory over the Bengals this past Sunday, he also finished the game as the Bears leading receiver and the second leading receiver overall (behind Bengals wide out A.J Green).
He also caught in the fourth quarter what would wind up being the game winning touchdown. I think it's safe to say that Marshall without question knows his role in the offense. As far as his surgically repaired hip goes, it didn't seem to bother him on Sunday. His eight catches and 104 receiving yards allowed Marshall re-assert himself as the Bears biggest offensive threat.
Marshall seemed flawless as he used his body, height and wingspan to make big catches, fight off defenders and take hits. He averaged 13 yards per catch against Cincinnati for crying out loud. At the end of the day, I believe that Marshall was just trying to drum up interest and anticipation for the season opener. If he wanted everyone's attention, he definitely got it.
He got our attention and it worked to perfection. The stunt paid off with a Bears victory and all is well at Halas Hall. I get the feeling that Brandon Marshall may pull similar stunts as the season continues. But as long as the Bears win consistently, I don't think anyone will mind.
Follow me on Twitter @GabeSalgado82
For More Great Chicago Sports Content
Follow us on Twitter at @chicitysports23 for more great content. We appreciate you taking time to read our articles. To interact more with our community and keep up to date on the latest in Chicago sports news, JOIN OUR FREE FACEBOOK GROUP by CLICKING HERE