With 1 week left in the NFL season, if you aren't a fan of a team in the super bowl, you're looking forward to the NFL draft. There is always tons of speculation on who your team will draft due to rumors and internet mock drafts. We're going to take a look into what the Bears need, and who (reputable) mock drafts have them targeting.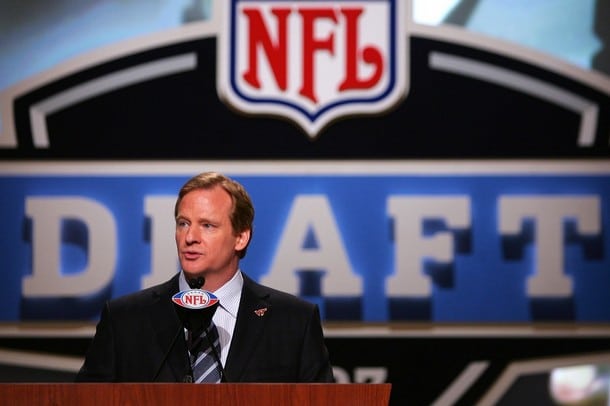 This will be the first time in 3 seasons where the Bears will have a 1st round draft choice. Trading for Jay Cutler left us without a 1st round pick two seasons in a row. We're 88 days away from the draft so it's never too early to start evaluating the needs of our team.
1.) Offensive Line.
It's fairly obvious that the Bears need to exhaust their 1st round pick on an offensive linemen. Jay Cutler was sacked 52 times in the regular season and even 9 times in 1 half against the New York Giants. For reference, this is how Cutler stacks up against the most sacked quarterbacks of all-time in a season.
The need for help on the offensive line is glaring. Mike Tice did a fabulous job making adjustments after the bye but a patch-work offensive line isn't going to win a super bowl, or get there for that matter. Offensive tackle is the biggest concern as J'Marcus Webb and Frank Omiyale gave up an almost combined 20 sacks. The left statistic being amount of sacks allowed, and the right statistc being the median sack time.  Omiyale and Webb were both in the Top 10 for allowed sacks. When both of your starting tackles are in the Top 10, you know you have a huge problem that you need to address.
It isn't evident if the Bears are going to give up on Chris Williams playing tackle just yet. Depending on that decision, we'll see what position the Bears target. If they are set on Chris Williams playing out to the potential which garnered his 1st round selection, the Bears could go with an interior offensive linemen. Williams seemed to play better at guard this season after the bye. The Bears need to draft an offensive tackle. Here are the top 5 offensive tackles per Draftcountdown.Com
2.) Wide Receiver.
The next obvious need for the Bears is a Wide Receiver with size. The Bears clearly lack a WR who can bail Jay Cutler out of a bad throw by going up and getting it. I cannot tell you how many times Johnny Knox and Devin Hester allowed the defense to intercept a pass that they could have reasonably gotten to.
The Bears need a big, physical Wide Receiver that Cutler can rely on when he's in a crunch. In the redzone, the defense heavily targets Greg Olsen as he is the biggest target the Bears have. Some draft sites have the Bears even taking a big WR such as Michael Floyd from Notre Dame. Jay Cutler's most productive seasons in Denver came when he had Brandon Marshall split out at WR. If the Bears can draft a Marshall-type WR who can go up and get a ball, expect Cutler to flourish in Martz' offense.
Let's face it, Devin Hester is not a #1 WR. Hester needs to be in the slot where we can utilize his speed. A good balance between our WR's will improve this offense immensely. Any physical WR can take Hester and Knox out of the game with ease. Knox's speed on the outside, Hester at the slot, and a big, physical WR split out opposite of Knox, will be ideal.
3.) Defensive Tackle.
Although Tommie Harris had 2 sacks against the Seattle Seahawks in the divisional playoff game, don't expect to see him back next season. He received a huge contract and was riddled with injuries and just wasn't the same. With his contract up, it isn't clear if the Bears will bring him back. If they do, it will have to be at a significantly lower price. Anthony Adams may be testing free agency as well as he hasn't received an extension like Matt Toeaina did.
This could leave the Bears with a hole to fill. Henry Melton will be good for rotational purposes but he will not be a full-time replacement for Adams and Harris should they go to Free Agency. A lot of sites have the Bears picking up DT Marvin Austin from UNC in the 2nd or 3rd round. More will be known when free agency gets closer.
4.) Cornerback.
Charles Tillman was able to stay healthy this season and make a huge impact on the defensive side of the ball. Opposite of him to start the season was Zachary Bowman who was quickly replaced by Tim Jennings. Jennings played solid but was far from impressive. The Bears pass coverage through out the season wasn't all that great and this can be attributed to the lack of a second corner who can play to the tune of Tillman. Tillman isn't getting any younger either, so the need for a solid, young cornerback is growing. D.J. Moore seems to be more tailored to play the nickel, and Bowman has yet to raise eyebrows in the regular season as he does year in and year out in training camp.
5.) Brian Urlacher's replacement.
Brian Urlacher had a phenomenal season this year coming off that wrist injury that sidelined him for the entire season last year. However, Urlacher is aging and it's going to be hard to replace him. Our best bet is to bring in a young MLB and have Urlacher coach him up as his career dwindles down. Hunter Hillenmeyer is far from a suitable replacement for Urlacher. He can make some solid tackles but lacks the tenacity it takes to be a Chicago starting linebacker.
I have went on my own personal agenda to help Bear fans become aware of Nate Irving out of NC State. This guy IS Brian Urlacher's replacement. A lot of scouts will pass on him because of his size but if there is one player in college football that reminds me of Urlacher at LB, it's this guy. Being able to watch several NC State games this season, this guy was in on every tackle and was a headache for opposing offenses. The upside to a player like Nate Irving, is that he would be a mid-round draft choice as well. The previous 4 "needs" were all un-biased. However this is clearly biased, as I think we NEED to have Nate Irving on our roster.
Let's take a look at who some reputable NFL Draft sites have the Bears taking in the 1st round.
DRAFTCOUNTDOWN
NFLDRAFTDOG
FEEL FREE TO DISCUSS THE NFL DRAFT ON OUR FORUMS WITH OTHER FANS. WHO SHOULD THE BEARS DRAFT? WHAT ARE THEIR NEEDS? TALK ABOUT IT ON THE FORUMS.
Win more with your NFL betting when you sign up for the NFL expert picks at BetFirms.
For More Great Chicago Sports Content
Follow us on Twitter at @chicitysports23 for more great content. We appreciate you taking time to read our articles. To interact more with our community and keep up to date on the latest in Chicago sports news, JOIN OUR FREE FACEBOOK GROUP by CLICKING HERE