The Chicago Bears are on the clock
In unbelievable fashion (thanks Lovie!) The bears have officially secured the NO.1 overall pick in the 2023 NFL Draft. Yes, that's right the Chicago Bears are officially on the clock and have 109 days to make a decision on what they want to do with the first overall pick.
The Bears could keep the pick and take who they deem best in the draft. Is it Will Anderson from Alabama? A shiny new QB for Ryan Poles? Or do Ryan Poles and the Bears brass get creative and trade down from the 1st pick for a haul of picks? If the Bears were to trade down who would they target in the 1st round?
Here are some potential players the Bears could target in different trade-down scenarios.
Picks #3-6 range: Will Anderson(Alabama) EDGE, Jalen Carter(Georgia) DT, Bryan Bresee(Clemson) DT
Will Anderson
Will Anderson Jr has been the consensus pick for the Chicago Bears in most mock drafts in which the Bears keep their pick. Anderson is also arguably the consensus best player in the draft and when you turn on the film it shows. Anderson is basically un-blockable and extremely explosive and would be an instant starter for the Bears and help them on defense immediately.
Jalen Carter
Carter is the type of generational athlete that could transform an entire organization's fortunes, and Chicago desperately needs an upgrade of talent on its lackluster roster. Chances are the front office will trade down to acquire more draft capital and subsequently more prospects. However, if Chicago keeps the second pick, Carter's ability to create disruption and cause chaos could be the catalyst needed to jump start the Chicago Bears' defense.
Via: NBCsports.com
Bryan Bresee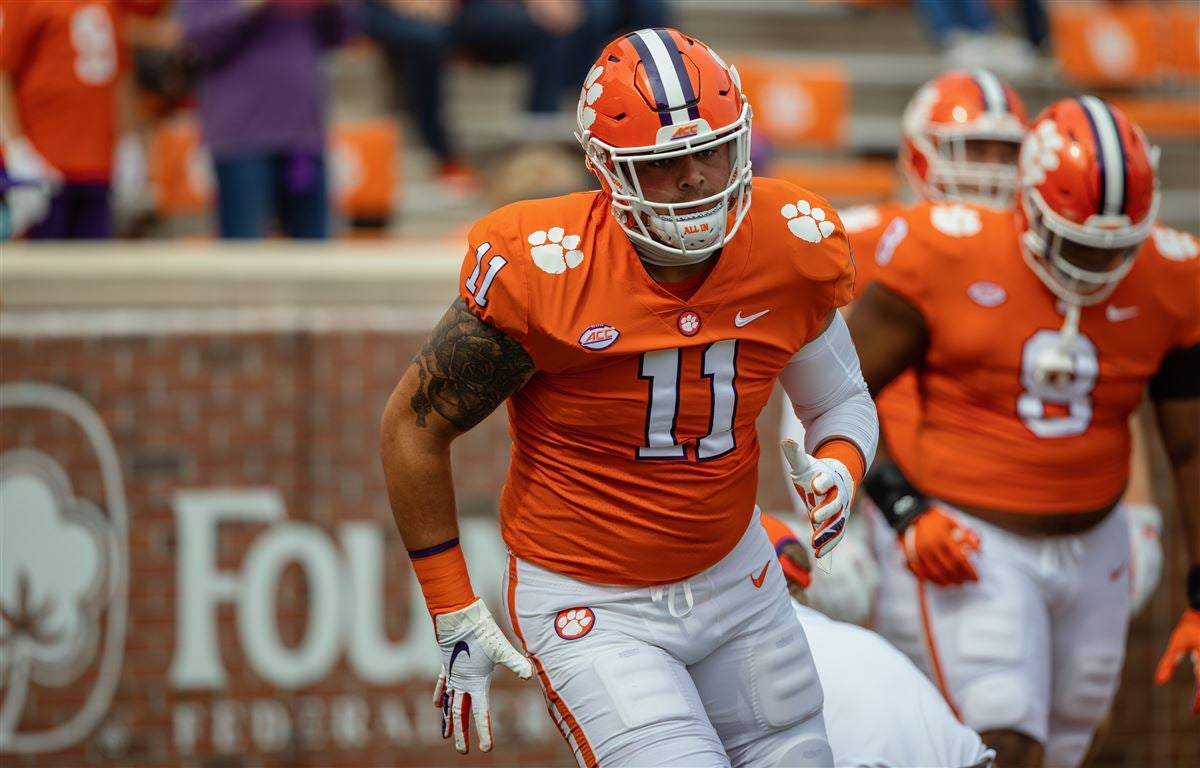 Even though Jalen Carter is ranked ahead of Bresee in most draft prospect rankings Bresee is not that far off from Jalen Carter. Injuries have been the number one thing holding Bresee back but when he is right he can blow through anyone in the interior. Bresee is also slightly longer than Carter, something that Chicago Bears head coach Matt Eberflus said would play a big role in shaping the team in the future.
Picks #7-10 range: Tyree Wilson (Texas Tech) EDGE, Myles Murphy (Clemson) EDGE, Peter Skoronski (Northwestern) OL
Tyree Wilson
Continuing off the point that Chicago Bears head coach Matt Eberflus saying that length will be a huge factor in the Bears scouting process in slides linebacker Tyree Wilson. Standing at 6'6 and weighing in at 276 lbs Wilson is a freak of nature. Wilson has a massive wingspan and is very athletic for his size. With NFL coaching he could be a serious weapon for the Bears defense.
Myles Murphy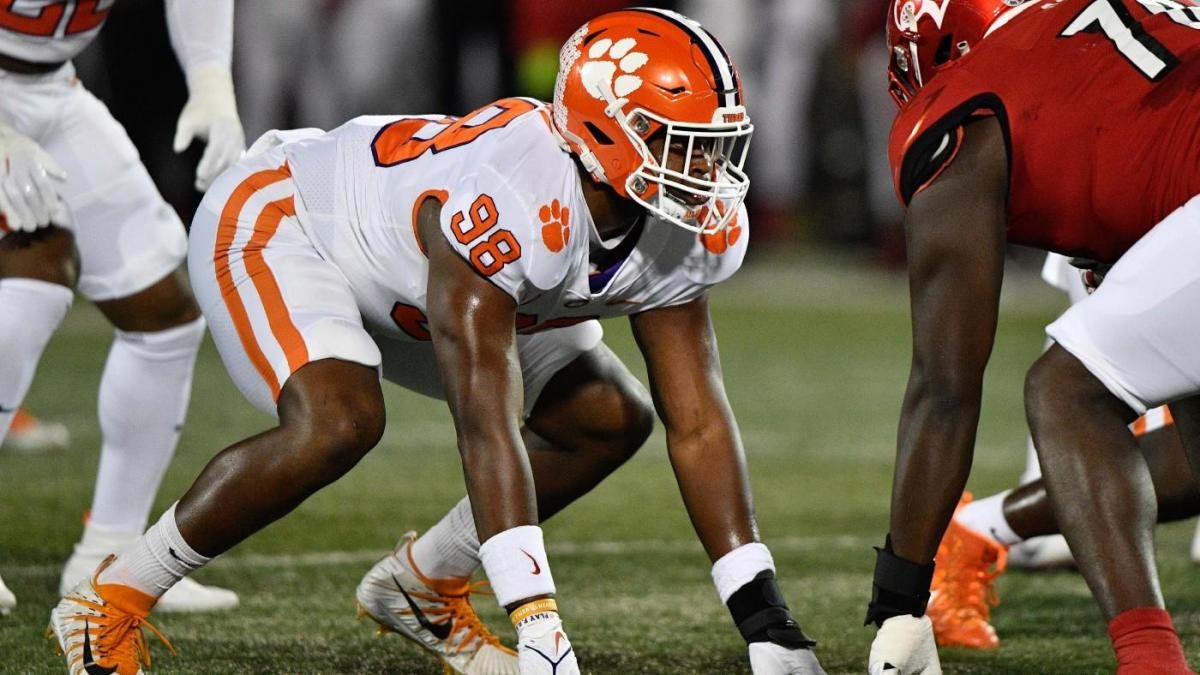 Murphy is similarly built like Tyree Wilson is and has received pro comparisons comparing him to Travon Walker. This is because of his explosiveness. Don't be fooled by Murphy's mild stat production his attributes and physical ability will translate nicely to the NFL. Myles Murphy is one of four Clemson players since 2000 to have multiple seasons with multiple forced fumbles and at least four sacks.
Peter Skoronski
If you watched Chicago Bears football this season then you know the Bears desperately need help on the O-line. Especially if Ryan Poles decides Justin Fields is his guy and the QB of the Bears future. Justin Fields ran for his life nearly every game season, in fact Fields set a new NFL record this season. Fields had a sack rate of 14.7% narrowly edging out Derek Carr's previous mark of 14.6%. Skronski would instantly improve the Bears O-line as he has only allowed 4 pressures on 362 pass blocking snaps this season.
Picks #10-13 range: Paris Johnson (Ohio State) OL, Quentin Johnston (TCU) WR, Jaxon Smith-Nijigba (Ohio State) WR
Paris Johnson
Tackle is probably their greatest sore spot(Chicago Bears). They have no definitive right tackle, and left tackle remains a slight question mark despite an admirable effort by Braxton Jones. Johnson played well for the Buckeyes in 2022, demonstrating his unique physical traits with size, power, length, and athleticism. C.J. Stroud rarely had to worry about pressure from his blind side. Pass protection is the first priority for the Bears, so this would be an easy decision.
Via: Sportsmockery.com
Quentin Johnston
Johnston is a big bodied WR. Standing at 6'4″ 215 pounds Johnston's size alone is an issue for anyone opposing him. Here are his strengths from profootballnetwork.com
Johnston has excellent height and elite length, with a wiry but compact frame. He's a truly effortless accelerator for his size and can gear up instantly with outrageously long, explosive strides off the line. He also has exceptional long-strider speed — enough to accelerate, stack defensive backs, and sustain separation.

Johnston can explode across the field after executing his break, but he also has impressively loose hips for his frame. The TCU WR can send defenders off-balance in the open field with quick, subtle lateral moves. He also shows good finesse for his size and uncanny fluidity between movements.
Once again if Poles decides to ride with Fields heading into the 2023 season not only does he need to protect Fields but he needs to give Fields a true NO.1 WR option. Trading for Chase Claypool has not yet worked out for Chicago. Adding Johnston to the Chicago Bears WR room will only do positive things for Justin Fields development.
Jaxon Smith-Nijigba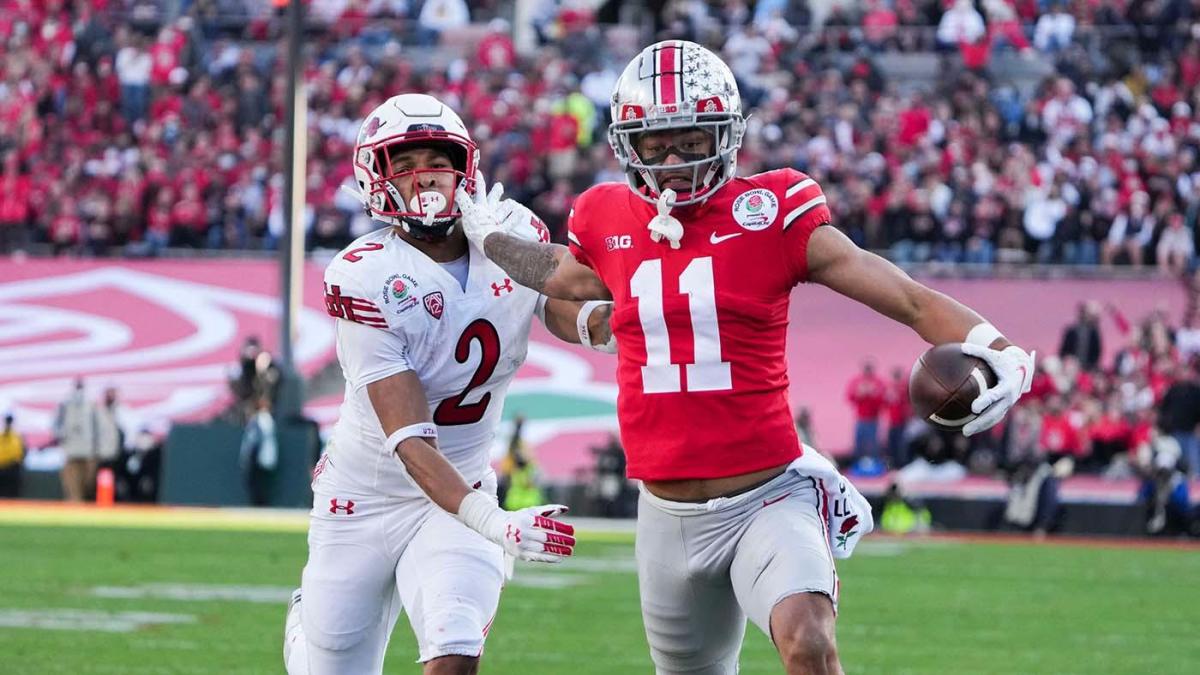 Like Quentin Johnston, Jaxon Smith-Nijigba would be a tremendous addition to the Chicago Bears WR room. You might know Smith-Nijigba from the 2022 Rose Bowl in which he had an electric performance (15 rec, 347 yards, 3 touchdowns). He also set the BIG 10 single season receiving record in 2021 with 1,606 yards. Smith Nijigba was limited in 2022 due to injuries even so he is an intriguing option for the Chicago Bears.
For More Great Chicago Sports Content
Follow us on Twitter at @chicitysports23 for more great content. We appreciate you taking time to read our articles. To interact more with our community and keep up to date on the latest in Chicago sports news, JOIN OUR FREE FACEBOOK GROUP by CLICKING HERE