The Chicago Bears started out head coach Matt Eberflus' first season with the team by playing fairly mediocre before fizzling into a predicted disaster. A Bears staff member recently explained why one rookie who contributed greatly to the Bears' downfall last season didn't get reps for experience when the Bears were out of the playoff hunt.
Velus Jones Jr. had a rough rookie year
The Bears were 3-4 heading into their Halloween weekend matchup with the Dallas Cowboys. The season didn't go off the rails until the Bears lost that game in a blowout and then turned around the next week to lose a nailbiter by three points at home to the Miami Dolphins. The team had several chances to win close games in their first nine tries. One common denominator in those losses were crucial mistakes by wide receiver and return man Velus Jones Jr.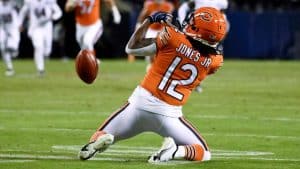 The NFC East thoroughly destroyed his rookie campaign. Jones muffed punts against the New York Giants, and Washington Commanders came in one-score games. Jones' dropped touchdown reception against the Cowboys didn't ultimately cost the Bears a touchdown drive, but it didn't help his cause. Jones fumbled on a reverse running play against the Philadelphia Eagles.
Jamie Gillan 59-yd punt .. Velus Jones muff recovered by Brightwell#Bears 12 #Giants 20 Q4 pic.twitter.com/uSj0fW0PSV

— Sᴘᴏʀᴛs 24/7 (@Sports_24x7_) October 2, 2022
General manager Ryan Poles argued cooking the board for a 25-year-old rookie made sense because Jones wouldn't want to "party" and would be entering the NFL mature. Instead, they got a raw NFL returner who took forever to mature their footbal skills in college. Dante Pettis replaced him to close out the season.
Why the Chicago Bears benched Jones
Brad Biggs wrote about the Bears' special teams' outlook for the 2023 season. Biggs quoted special teams coordinator Richard Hightower on the decision to bench Jones. Biggs was curious as to why the Bears didn't let Jones gain more experience on the field when the season was basically over:
"It's worth wondering if the Bears regret not putting Velus Jones back out there near the end of the 10-game losing streak to end the season. They had little to lose in December.

"No, I don't," Hightower said. "Everything that happens to you, you learn from it. I see a kid that is even more eager now because he knows, 'I want to be out there.' He comes back with a totally different mindset. He looks different."
Jones' mindset will have to change this summer as he'll face competition for a roster spot. The Bears added several wide receivers since he was drafted. Rookie wide receiver Tyler Scott returned kickoffs at Cincinnati. Scott didn't return punts, but scouts think he can return punts at the NFL level, given his speed. But as we learned with Jones, hands are as important as speed–if not more so.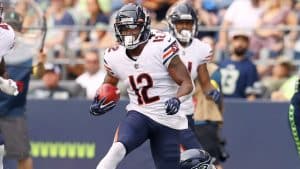 It sounds like Jones is ready for the fight this offseason. The team will be better if he can show the Bears coaching staff that they can trust him to catch the ball. Jones' speed and potential to be a playmaker are off the charts if he gains that confidence.
For More Chicago Sports:
Follow me on Twitter at @JordanSig, and follow us @ChiCitySports23. You can also reach out to Jordan Sigler via email at jordanmsigler@gmail.com. To read more of our articles and keep up to date on the latest in ALL of Chicago sports, click here! Chicago Bears, Chicago Bulls, Chicago Cubs, Chicago White Sox, Chicago Blackhawks.
For More Great Chicago Sports Content
Follow us on Twitter at @chicitysports23 for more great content. We appreciate you taking time to read our articles. To interact more with our community and keep up to date on the latest in Chicago sports news, JOIN OUR FREE FACEBOOK GROUP by CLICKING HERE