Justin Fields just scored a big payday before his third season in the NFL. The Chicago Bears quarterback has a lot riding his performance in year three. The Bears will be looking to see if he can make major strides in the passing game with upgrades at wide receiver and the offensive line.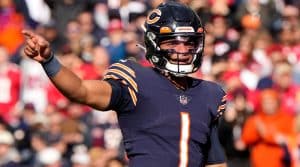 The Bears will have to decide next offseason if they want to grant Fields his fifth-year option. He hasn't yet shown enough in the passing game to warrant that kind of pricey contract. However, Fields' skills as being one of the most explosive athletes in the league earned him another deal this offseason.
According to Daniel Greenberg, Fields signed a brand deal with the fitness and footwear brand Reebok.
Chicago Bears quarterback Justin Fields has signed a brand deal with Reebok.

— Daniel Greenberg (@ChiSportUpdates) June 9, 2023
According to Zack Pearson of Bear Report, Fields was spotted in a pair of Reebok Pump Question shoes during the Bears field trip to the United Center after head coach Matt Eberflus canceled practice Thursday.
Justin Fields in the Reebok Pump Question shoe. https://t.co/BLHqo94at1

— Zack Pearson (@Zack_Pearson) June 8, 2023
Chicago Bears fans react to Justin Fields' new deal
Bears fans had opinions on Fields' new deal not long after Greenberg's report came out. Some fans seemed to mock Reebok as an inferior athletic product, but I don't think many of those fans are experts at running in their footwear. Here are the best takes of Fields making a deal with Reebok.
Lol Justin Fields bout to put Reebok back on 😭 https://t.co/qfchSAR7Az

— R.I.P. Papa G (@AlreadyTakin_20) June 9, 2023
Guess im going out and getting some Reebok's then https://t.co/UwbPHO6KTu

— Matt (Cody Bellinger Enthusiast) (@mattgregry) June 9, 2023
Justin…..Reebok?! https://t.co/rHHapnIMqt pic.twitter.com/bXqJfOhWVB

— Drew (@drewscardshop) June 9, 2023
It's been Reebok since day 1 @justnfields https://t.co/WzjtQr1BsK pic.twitter.com/pE9NOUEK5Y

— Willy Whiskers (@bigstankyranch) June 9, 2023
Why would anyone play with this nerd over Trevor Lawrence? https://t.co/e87qcYLHcJ

— REAL CHICAGOAN (now on bsky) (@MEATBALLCHICAGO) June 9, 2023
I'll always support him being a Bears fan, but Reebok though!?! 🤦‍♂️

You have Nike Jordan, Under Armour…. do you I guess! I'll give him credit, he's paving his own path, so could be a big win for Reebok. 🐻⬇️ https://t.co/0kjaBhFDrR

— Ian L (@ISL1975) June 10, 2023
There goes any lick of aura he had left. This guy is the prime example of how to ruin your career https://t.co/c6G59phfMh

— Is Justin Fields good yet? (@FieLdsLMAOO) June 9, 2023
Happy for him but…Reebok?????????

— Sam (@Sam_____219) June 9, 2023
He's gonna do #Crossfit now?

— J (@mrjoshua76) June 9, 2023
Won't be buying Reebok sadly

— Lerrato 🐻⬇️ (@chilerrato) June 9, 2023
For More Chicago Sports:
Follow me on Twitter at @JordanSig, and follow us @ChiCitySports23. You can also reach out to Jordan Sigler via email at jordanmsigler@gmail.com. To read more of our articles and keep up to date on the latest in ALL of Chicago sports, click here! Chicago Bears, Chicago Bulls, Chicago Cubs, Chicago White Sox, Chicago Blackhawks.
For More Great Chicago Sports Content
Follow us on Twitter at @chicitysports23 for more great content. We appreciate you taking time to read our articles. To interact more with our community and keep up to date on the latest in Chicago sports news, JOIN OUR FREE FACEBOOK GROUP by CLICKING HERE