The Chicago Bears announced their intentions for Tremaine Edmunds
The Chicago Bears biggest signing in free agency was linebacker Tremaine Edmunds. Edmunds was considered by many fans and analysts as Roquan Smith's replacement, but it looks now like he's technically not. In March, Edmunds was inked to a record-breaking deal for an inside linebacker by the Bears.
(The Bears still don't have an elite "engine" to make Edmunds' skills effective in 2023.) Edmunds' deal came in the offseason after the Bears traded Roquan Smith, who head coach Matt Eberflus considered a weakside (Will) linebacker.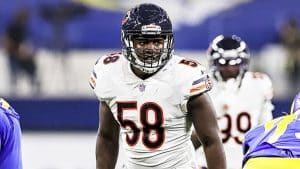 The Baltimore Ravens signed Smith to a fantastic deal for an off-the-ball linebacker. However, the Ravens use Smith as a middle linebacker in their defensive scheme. A few Bears beat writers thought Edmunds would replace Smith's void as Eberflus' Will linebacker. According to Adam Jahns with The Athletic, Eberflus said Tuesday at the League Annual Meeting he intended to use Edmunds as the middle (Mike) linebacker in the Bears system.
Bears coach Matt Eberflus says that Tremaine Edmunds will be the Mike linebacker in his defense.

— Adam Jahns (@adamjahns) March 28, 2023
Bears fans react on Twitter
Bears fans immediately gave their opinion after Eberflus announced his plans for Edmunds. Here are the best takes on Twitter about Edmunds being the next Bears Mike linebacker.
Pretty much tells you height and pass coverage is the main reason Roquan didn't get the gig.

— Real Estate Guy (@RealEst8_4U) March 28, 2023
Urlacher 6'4 / Edmunds 6'5
Urlacher 4.57 / Edmunds 4.5 #Bears https://t.co/nNUvQjnhk7

— DaClark 🐻⬇️ (@JF1_2DM) March 28, 2023
Massive overpay then

— David Tapia (@DavidTapia) March 28, 2023
https://t.co/W8ZnBqGejN pic.twitter.com/EAixPd602X

— Just🥶Acy🥶Dawg™️ (@Just_Acy) March 28, 2023
This was the obvious move. Use his height and athleticism. https://t.co/JG4JX91PkM

— Tony Daly (@Tony_Daly) March 28, 2023
Kind of figured this would be the play.

W – Edwards
M – Edmunds
S – Sanborn

Love everything about that. https://t.co/s2wd27rPzT

— Duke Coughlin (@ThatPodGuyDuke) March 28, 2023
Maybe some of y'all should stop acting like you know everything/better than the HC and those that run this football team https://t.co/FWtjAd8kev

— Allyson (@ABQBearsGrl89) March 28, 2023
Some linebacker clarity from the #Bears Coach. Edmunds' length will be a benefit covering the middle of the field in zone, but keep in mind teams are in nickel about 60% of the time these days, so the Will and Mike will be moved around a bit. https://t.co/b4CYYcfr2K

— Lester A. Wiltfong Jr. (@wiltfongjr) March 28, 2023
Makes Sense. Urlacher was tall & disrupted passing lanes while Briggs flew around making tackles https://t.co/Dt0bmxIOjQ

— Blake (@ot7_blake) March 28, 2023
Bears aren't going anywhere with Poles & Eberflus. #NFL https://t.co/barIVTNC0r

— Matthew (@RealMBB) March 28, 2023
For More Great Chicago Sports Content
Follow us on Twitter at @chicitysports23 for more great content. We appreciate you taking time to read our articles. To interact more with our community and keep up to date on the latest in Chicago sports news, JOIN OUR FREE FACEBOOK GROUP by CLICKING HERE