Chicago Bears safety Jaquan Brisker thought a QB got overpaid
Chicago Bears safety Jaquan Brisker has a few more years left on his rookie deal. Brisker will be in his second NFL season in 2023. He might not have to worry about personal contract negotiations for a while, but he's watching them close this offseason. Brisker recently took a shot at the contract extension a quarterback received Tuesday.
Brisker took to Twitter and quote tweeted a post about Baltimore Ravens quarterback Lamar Jackson not getting a fair deal this offseason:
"MVP lol… other Bruh got paid today and is trash fam. #FACTS," Brisker wrote. The other was a reference to New York Giants quarterback Daniel Jones earning a hefty new contract.
Brisker then Retweeted Ryan Clark's comment that amused that Jones' contract is higher than Jackson's.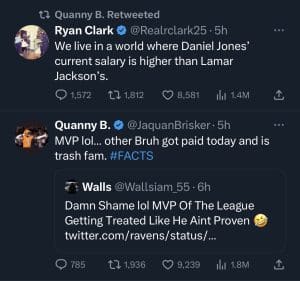 Jones has Brisker's number
I won't even debate Brisker's argument. Jones isn't a $40 million quarterback, and Jackson is worth more than $40 million. Jones hasn't made a Pro Bowl in his career, much less been an MVP candidate. However, Brisker didn't need to air any shade to the Giants' signal caller.
Brisker played a lousy game against Jones last season when the Giants defeated the Chicago Bears 20-12. According to Pro Football Focus, Brisker was given a 53.0 overall grade for his personal against the Giants The Bears rookie gave up all three receptions he was targeted on against Jones. He needs to work on backing up his Tweets on the field for next season. As of now, there's been more hype from Brisker and the Bears about his potential than good play on the field.
For More Great Chicago Sports Content
Follow us on Twitter at @chicitysports23 for more great content. We appreciate you taking time to read our articles. To interact more with our community and keep up to date on the latest in Chicago sports news, JOIN OUR FREE FACEBOOK GROUP by CLICKING HERE