The Chicago Bears need help at the defensive end position this offseason. There are several available options in free agency this offseason or trade. General manager Ryan Poles is expected to attempt to find help at a bargain value to shore up the pass rush before the 2023 season starts. Yannick Ngakoue has been a name of interest by many fans and analysts to sign with the Bears this fall. While he'd be a great additional help at defensive end in the pass rush, he has one primary liability.
PFF thinks the Chicago Bears should sign Yannick Ngakoue
Brad Spielberger with Pro Football Focus named Ngakoue as a pass rusher that should be considered as the Bears' final offseason addition. He points out that Ngakoue is a top pass rusher but hints that he struggles with run defense:
"Ngakoue's 2022 production makes us wary once you look at his underlying metrics, with his 9.5 sacks this past season well above the expectation of a player with his pass-rush win rate and pressure rate. That being said, he's registered at least eight sacks in every season of his seven-year career and was a more menacing pass rusher on a per-snap basis from 2017 to 2021.

The Chicago Bears made several free-agent additions on the edge that should be solid against the run on early downs but don't project to offer much pass-rushing juice. Ngakoue does just that, and perhaps now Chicago should reach out to let him just pin his ears back and hunt quarterbacks."
Ngakoue has been a beast as a pass rusher. Many Bears fans have wondered why someone with his skill at getting sacks would bounce around each offseason. (Ngakoue has been with four teams in the last three seasons.) Part of the reason is his run-stopping ability.
He's a liability there. You can see in clips here he lets a wide receiver wash him out of a play twice as he fails to diagnose the run. In the second play, he just gets thoroughly beaten by the offensive tackle on the edge.
Yannick Ngakoue would be a plus for Flus' pass rush. But he's a liability in the run game. #Bears pic.twitter.com/5raqcZVdiJ

— Jordan Sigler (@JordanSig) May 10, 2023
The Bears need a pass rusher, but at what cost?
Even while earning 9.5 sacks in 2022, PFF gave Ngakoue a 51.4 overall grade. His run defense was rated 43.7 last year. Ngakoue's best run defense grade was 61.9 during his second year in the league. He's had two seasons he was graded in the 20s for run defense.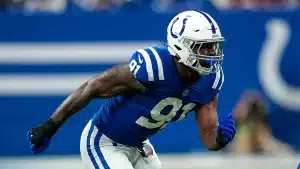 That's a significant problem for a player that wants to see $13 million a season. Ngakoue would pretty much only be brought in for passing downs. However, the Bears have the cap space if they want to bring him in on a one-year band-aid deal. Ngakoue excels in getting after the quarterback and stripping the ball. He has 20 forced fumbles in his seven-year NFL career.
Yannick can strip the ball though while pass rushing. He has 20 forced fumbles in 7 seasons. 6 came with the Jags in 2017. Yannick took the ball out of Jalen Hurts hands last season. #Bears pic.twitter.com/vBQ1sxy5F9

— Jordan Sigler (@JordanSig) May 10, 2023
Ngakoue would be worth the risk on a one-year deal. He's the type of player that could come in, do what he does well in 2023. Stopping quarterbacks. Poles plans on drafting defensive end help next year. By then, Ngakoue will probably be taking other phone calls.
For More Chicago Sports:
Follow me on Twitter at @JordanSig, and follow us @ChiCitySports23. You can also reach out to Jordan Sigler via email at jordanmsigler@gmail.com. To read more of our articles and keep up to date on the latest in ALL of Chicago sports, click here! Chicago Bears, Chicago Bulls, Chicago Cubs, Chicago White Sox, Chicago Blackhawks.
For More Great Chicago Sports Content
Follow us on Twitter at @chicitysports23 for more great content. We appreciate you taking time to read our articles. To interact more with our community and keep up to date on the latest in Chicago sports news, JOIN OUR FREE FACEBOOK GROUP by CLICKING HERE