The Chicago Blackhawks' number one overall pick in this year's draft, Connor Bedard, has been working out the team's development camp since last weekend. He apparently isn't too excited about one aspect of the Blackhawks' tactics.
The Chicago Blackhawks had Connor Bedard in the gym
According to Kara Keating with the NHL, the Blackhawks chose to shake up their typical camp structure. Instead of practicing on ice and in skates, Bedard and his new teammates were on the hardwood in a gym in sneakers. They also received boxing lessons:
The main reason why the team chose to move workouts off the ice is to allow players to rest head coach Luke Richardson states. It also takes the pressure off some prospects to perform at a high level as management watches from the stands.

Richardson also mentions that players can allow their bodies to rest for some of the prospects who played until the middle of June. If they continue to overwork their players during the week-long event before they go off to other international camps and rookie camps, then this can cause injuries down the road.

"I think being smart now giving them some intangibles with a little bit of boxing lessons just to change things up and to have some fun [with other] events in the city to get to know the city and maybe feeling more comfortable," Richardson said. "If you're more comfortable off the ice, then you're just going to be more comfortable on the ice."
Bedard wants to be on the ice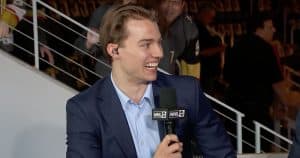 The shake-up appears to have thrown a wrench in one important player's plans. Bedard, who stands to face the most pressure of any other Blackhawks player at the development camp, craves his time on the ice. According to Charlie Roumeliotis with NBC Sports, Bedard said the Blackhawks development camp was the longest he's been off the ice since he started skating:
Connor Bedard on not being on the ice for a few weeks: "It's been a pretty long time, maybe the longest in my life." #Blackhawks

— Charlie Roumeliotis (@CRoumeliotis) July 6, 2023
Overall, Bedard enjoyed his time at camp, meeting the new staff and his new teammates in Chicago. I'm sure he'll be back on the ice as soon as his coaches aren't in his way at camp.
For More Chicago Sports:
Follow me on Twitter at @JordanSig, and follow us @ChiCitySports23. You can also reach out to Jordan Sigler via email at jordanmsigler@gmail.com. To read more of our articles and keep up to date on the latest in ALL of Chicago sports, click here! Chicago Bears, Chicago Bulls, Chicago Cubs, Chicago White Sox, Chicago Blackhawks.
For More Great Chicago Sports Content
Follow us on Twitter at @chicitysports23 for more great content. We appreciate you taking time to read our articles. To interact more with our community and keep up to date on the latest in Chicago sports news, JOIN OUR FREE FACEBOOK GROUP by CLICKING HERE