The Chicago Blackhawks won the NHL lottery last month. Many fans and media members think it's a foregone conclusion that they take Connor Bedard. Bedard isn't 100 percent convinced that will happen.
Connor Bedard talks about going to the Chicago Blackhawks
According to Emily Kaplan with ESPN, Bedard spoke to reporters before Game 2 of the Stanley Cup Final Monday. Bedard said it would be "unbelievable" for the Blackhawks to take him and that he'd have to see what happens in the draft. Bedard said he was learning about living in the spotlight during the draft process:
"It's definitely something you've got to get used to; I'm still obviously a kid," Bedard said. "There's a lot of outside noise surrounding myself and a lot of these guys. For me, I try to look at it as a positive. I've been very fortunate to have a lot of these experiences … World Juniors and being here, these are things that not everybody gets to do. So I'm really grateful for that."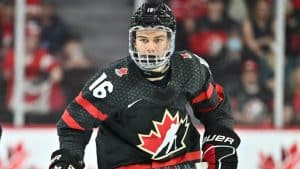 There's a good reason why he's in the spotlight. Bedard is thought to be a generational talent for the NHL. His numbers in the World Juniors were insane, as he broke the record for points by a Canadian with 23. The team won the Gold medal for his efforts. Bedard finished with the fourth most points ever in a World Juniors tournament.
The 17-year-old hockey phenom is being modest about going to the Blackhawks. There's no way the franchise doesn't take him in July. Bedard is too critical to the Blackhawks' future, even if Bedard won't acknowledge that publicly.
For More Chicago Sports:
Follow me on Twitter at @JordanSig, and follow us @ChiCitySports23. You can also reach out to Jordan Sigler via email at jordanmsigler@gmail.com. To read more of our articles and keep up to date on the latest in ALL of Chicago sports, click here! Chicago Bears, Chicago Bulls, Chicago Cubs, Chicago White Sox, Chicago Blackhawks.
For More Great Chicago Sports Content
Follow us on Twitter at @chicitysports23 for more great content. We appreciate you taking time to read our articles. To interact more with our community and keep up to date on the latest in Chicago sports news, JOIN OUR FREE FACEBOOK GROUP by CLICKING HERE