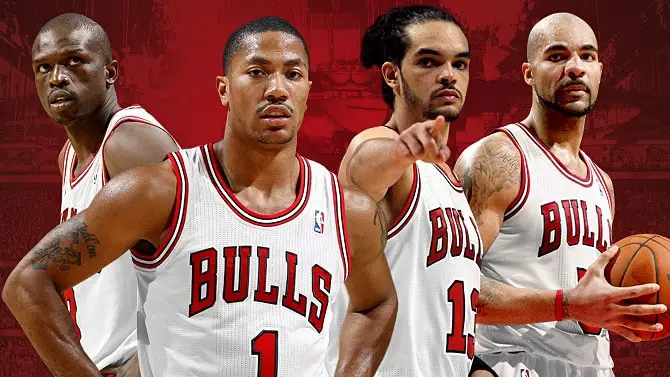 The signed contracts and (nearly) exhausted cap space indicate the roster is essentially set for the 2012/13 season. While most Bulls fans, including myself, have been left confused, frustrated, and even angered by management's offseason decisions, it now serves little purpose to dwell on the past and identify what could have been better options. Sure, the most effective bench on the winningest team of the past two years didn't need to be dismantled, but the damage and subsequent reconstruction has been done. A more productive (albeit still speculative) discussion involves an assessment of each player scheduled to suit up for Chicago in October – or in Derrick Rose's case, January… we hope.
The premise/framework of this assessment is simple and piggy backs off segment 1 of The Bulls Show: Episode 10. Each player currently on the Bulls' roster has been categorized below strictly based on my basketball expectations for the upcoming season without much regard for the finances. In other words, these are actual "basketball decisions" unlike Gar Forman's empty promise back in June.
The 3 categories range from low, signaling an anticipated drop off in effectiveness and/or productivity, to high, where the specified player should perform at an improved level compared to his prior season.
EXPECTATIONS: HIGH
Despite the premature passing of the beloved Bench Mob, Bulls fans should feel optimistic about some returning members and a few new additions to the team.
Taj Gibson – Gibson is a potential cornerstone of this franchise if the Bulls are able to sign him long-term. He should make the proverbial leap this year and prove himself as one of our best 2-way players only behind Luol Deng. Gibson had already earned the reputation of a defensive workhorse, but he demonstrated an increase in offensive output during last year's playoffs. As long as Gibson continues his relentless attacks to the rim and develops a more consistent jumper, he could establish himself as a well-rounded, upgraded version of Carlos Boozer without painted hair. Gibson also spent a portion of his summer on the USA-select team. The experience of competing with and against the NBA's top-level talent on a daily basis should translate into a more confident and improved Gibson come opening night.
Jimmy Butler – The sophomore appears poised to make a considerable improvement this season after a successful and aggressive showing at Summer League. Although I wouldn't put too much stock in Summer League given its minor league vibe, the stars are still aligning for Butler this season. He should be receiving major minutes off the bench with the departure of Ronnie Brewer, but more importantly, he'll actually have practice time to develop his craft. Last year's lockout-shortened season forced unpolished rookies like Butler to spend more time observing games from the sidelines rather than getting reps at the Berto Center. Regardless, Butler did establish a solid foundation last year and showed plenty of promise during his abbreviated stints – most notably at Madison Square Garden checking Carmelo Anthony.
Kirk Hinrich – I'm likely in the minority to set high expectations for the repatriating Bull, especially after the structuring of his contract has caused quite the uproar. However, I am confident that Captain "Stopgap" will rejuvenate his career under Thibs' system. No, Hinrich is not worth his $3.9 million salary over two years and I'm possibly overstating Thibs' coaching ability, but the combo guard fits the grimy identity of this Bulls team. At the very least, he'll be a serviceable point guard while Rose is out and present a defensive "annoyance" (?). Although his last two years witnessed a significant decline, fans should consider that Hinrich was often injured during this period and spent his exile in toxic wastelands. It's unfair to expect any player to flourish in environments where the team tunes out its coach or predominantly executes an isolation-based offense.
Marco Belinelli – Belinelli is perhaps somewhere between a more dynamic Kyle Korver and a homeless man's Ben Gordon. As a streaky and irrationally confident gunner, Belinelli should provide consistent offensive firepower off the bench that we haven't seen from the 2 guard position in recent years. He can handle the ball and will not be relegated to only jump shooting. While Belinelli's defense does leave something to be desired, in Thibs we trust. The head coach's defensive schemes can be a quick remedy for such deficiencies.
Nate Robinson – My high hopes for the "Mini Mamba Era" have already been well documented, so I won't rehash the position in this space. Just keep in mind that such a positive outlook must be taken within the proper context. Robinson will bring value to this team, but only as the 12th man, bench mascot & sparkplug.
EXPECTATIONS: INDIFFERENT
A projection for the following players is virtually unrealistic when their minutes will be limited, if not non-existent:
Rip Hamilton – The jury is still out on whether Hamilton can stay healthy for extended periods during the season. Rip's frequent lack of participation in 2012 suggests the injury-prone masked man won't be much of a factor again. His poor shooting during last year's playoffs when he was presumably healthy was just as discouraging. Moreover, the effectiveness of Hamilton is difficult to gauge when he may become Tracy McGrady in a matter of weeks.
Nazr Mohammed – Our 4th big man and 14 year veteran is expected to play a Kurt Thomas-type role without the intensity or intimidation. Without these intangibles, Mohammed remains a marginal offensive upgrade from Omer Asik in terms of points per game and free throw shooting. However, slightly higher offensive numbers compared to Asik doesn't say much and won't compensate for the significant loss in defensive prowess. Barring injury, expect Gibson, Boozer, & Noah to assume the majority of responsibilities around the rim.
Marquis Teague – A disappointing Summer League and the addition of Nate Robinson imply that Teague will see very little action during his rookie campaign. Teague falls to 3rd on the point guard depth chart even with Rose inactive. If anything, expect Teague to get some run in the D-League during the year unless Robinson drastically underperforms.
Vladimir Radmanovic – The most surprising (perplexing?) signing of the offseason should become synonymous with "Garbage Time." Expect Radmanovic to only make appearances during the waning moments of blowouts. Radmanovic's most productive efforts may come off the court if he can use his Serbian roots to convince Nikola Mirotic to leave the Euroleague and join the Bulls next year.
EXPECTATIONS: LOW
Sadly, the lowest of expectations are reserved for our four most important players:
Most fans agree that the Bulls have significantly downgraded their roster by sacrificing their depth for financial savings. However, the team's title hopes still hinge primarily on their core 4 rather than their bench. Without expected improvements from their starting frontline (Boozer, Noah, Deng), and the questionable health of Rose, the forecast looks bleak for Chicago.
Follow The Bulls Show on Twitter | Like The Bulls Show on Facebook | Subscribe to The Bulls Show on iTunes
For More Great Chicago Sports Content
Follow us on Twitter at @chicitysports23 for more great content. We appreciate you taking time to read our articles. To interact more with our community and keep up to date on the latest in Chicago sports news, JOIN OUR FREE FACEBOOK GROUP by CLICKING HERE