The Chicago Bulls came 11 points short of making the playoffs this season, and one name has been circulating around the team as an addition that could get them back in contention. Many fans think the team should blow up its core and rebuild. However, the Bulls brass is adamant they want this team to compete next season. But they need to switch around a few pieces to make the team more competitive.
The Bulls had a few things missing this season. One, they need an elite point guard with Lonzo Ball likely out for another season. Two, they need better and more consistent big-man play. The Bulls could fix the first problem in a trade with the Phoenix Suns.
The Chicago Bulls could land Chris Paul
Chris Paul's name has come up linked to the Bulls by several NBA writers. Remy Mastey with Sports Illustrated notes that Paul has been reportedly frustrated with his situation with the Phoenix. Jack Simone with Bulls Wire wrote that Paul could land in Chicago for a reasonable asking price:
"This may be the most unlikely trade of the bunch. A trade for Chris Paul would have to include Ball, Caruso, and another smaller contract. However, it would give the Bulls an elite playmaker to run their offense.

Obviously, at 38 years old, Paul is a shell of his former self. But he'd still be an immediate upgrade to the Bulls' point guard position.

And considering the Phoenix Suns are looking to make significant changes this summer, they may be open to a deal. If Chicago gives up Ball, Caruso, and someone else, they could even get back some seconds in a potential trade for Paul."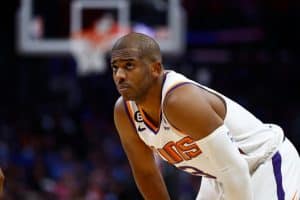 It would be a risk for the Bulls to take on Paul, given the point guard's age. Paul probably wouldn't turn the Bulls team into an NBA Finals contender with that trade. But it would be a fantastic start if the Bulls' front office is serious about competing next season. They could bring in Paul and look to add another contributor to go along with their core group.
For More Chicago Sports:
Follow me on Twitter at @JordanSig, and follow us @ChiCitySports23. You can also reach out to Jordan Sigler via email at jordanmsigler@gmail.com. To read more of our articles and keep up to date on the latest in ALL of Chicago sports, click here! Chicago Bears, Chicago Bulls, Chicago Cubs, Chicago White Sox, Chicago Blackhawks.
For More Great Chicago Sports Content
Follow us on Twitter at @chicitysports23 for more great content. We appreciate you taking time to read our articles. To interact more with our community and keep up to date on the latest in Chicago sports news, JOIN OUR FREE FACEBOOK GROUP by CLICKING HERE