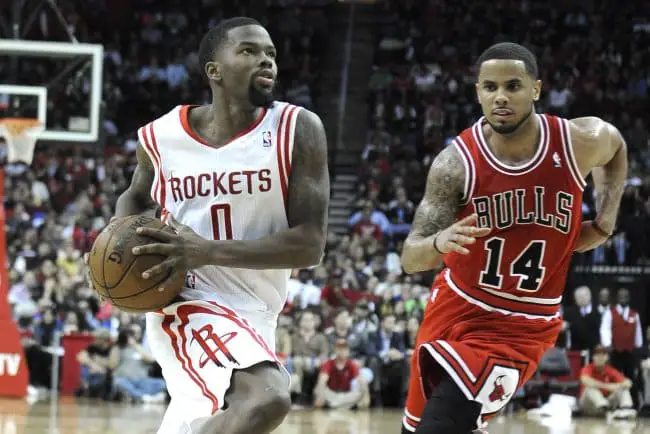 Finally, the annual Chicago Bulls player value rankings are back.
The concept is pretty simple. I'm going to rank every Bulls player in a similar fashion to Bill Simmons' annual trade value rankings. Instead of ranking the most valuable players across the league, I've decided to make a list of just the Chicago Bulls' players. Before starting the list, here are some rules for my rankings.
 This list only includes players the Bulls will have under contract heading into this season. I included some other assets in last year's rankings, such as draft picks and Nikola Mirotic, but this year I've only included active players (with one exception, whom you'll find out later).
 All of Simmons' rules apply to my rankings. The two most important rules are that age and salary matter. The younger and cheaper the asset, the better.
 Finally, the order of this list reflects what the Bulls could get in return for an asset. For example, Pau Gasol will likely be more important than Mirotic for the Bulls next season, but Mirotic is a more valuable trade asset because of his youth and upside.
I'm going to release these rankings in groups every day this week. Part 1 focuses on some players that will be at the back end of the rotation this season.
GROUP F: "Little or No Value"
15.) Nazr Mohammed
Like Kirk Hinrich, Nazr Mohammed just won't go away. The 37-year old veteran will return for his third season in Chicago and his mind-boggling 17th season in the league. You have to give some respect for the 1998 first round draft pick for still being in the league despite never averaging double-digit points per game over an entire season. The dude has made a staggering $63.7 million throughout his career thanks to his locker room presence and stout post defense. I would've rather seen the Bulls chase a younger big man with more upside, but at least you know what you're getting out of Mohammed. He's not going to cause any problems and he can still rebound with the best of them (averaged 11.2 rebounds per 36 minutes last season). He also did this to LeBron in the 2013 Eastern Conference Semifinals, so yeah, maybe he does deserve another year on the end of the Bulls' bench.
14.) Cameron Bairstow
Although Bairstow, the 49th selection in the 2014 draft, holds zero trade value, his play is intriguing to the Bulls.
Bairstow is a tough, hard-nosed player with surprising offensive skills. After being nothing more than a role player during his first three years at New Mexico, Bairstow exploded during his senior season, averaging 20.4 points per game at a 55.6 percent clip. Bairstow's outstanding mid-range shot can especially be valuable in the modern NBA game.
Bairstow worked on his craft in the Summer League and just finished up playing with Australia in the World Cup where he averaged seven points and three rebounds in just under 13 minutes per game. The Bulls likely aren't going to trade him this season and they don't need to. His contract is only partially guaranteed in the second year, giving the Bulls a chance to get a look at Bairstow with no risk attached.
13.) E'Twaun Moore
These are the type of low-cost moves I wish the Bulls pulled off more often. E'Twaun Moore signed a partially guaranteed deal with the Bulls in mid-September, giving them a solid backup combo guard with little to no risk. The Purdue product has played both guard spots during his three-year career, nailing 35 percent of his 3-point attempts. He's also made 1.4 3-pointers per 36 minutes for his career, showing that his solid lifetime percentage from downtown isn't a fluke. He also has potential as a defender, averaging 1.4 steals per 36 minutes last season due to his 6-foot-4 frame. Moore played 79 games with the Magic last season and ended with a career-best 11.1 PER. Considering he's still just 25 years old, can play multiple positions, and has a proven stroke, this signing could pay off later in the season. Let's hope Derrick Rose and Kirk Hinrich leave Moore sitting on the bench, but at least the Bulls are prepared for the worst.
12.) Aaron Brooks
There's not much to see here. Don't get me wrong, Brooks is a solid backup point guard with a deadly jumper, but his trade value is next to nothing.
Brooks signed for the veteran's minimum and will infuse some much needed shooting into the Bulls' lineup. Brooks played sparingly for the Rockets last year, averaging just 16.7 minutes per game in 43 games, but he looked like his old self during his stint with the Nuggets at the end of the season. Brooks averaged 11.9 points and 5.2 assists per game while nailing 42 3-pointers in 29 games in Denver. Brooks was especially efficient in catch and shoot situations, where his 45.8 3-point percentage was the seventh best mark in the league (min. of 55 GP and two catch and shoot 3PT attempts per game). Brooks is still just 29 years old and he won't be asked to do more than shoot coming off the Bulls' bench. Considering the success the Bulls have had with John Lucas III, C.J. Watson, Nate Robinson, and D.J. Augustin in the past, this signing could loom large during the season.
Check back at CCS every day this week as I unveil the rest of these rankings.
For More Great Chicago Sports Content
Follow us on Twitter at @chicitysports23 for more great content. We appreciate you taking time to read our articles. To interact more with our community and keep up to date on the latest in Chicago sports news, JOIN OUR FREE FACEBOOK GROUP by CLICKING HERE