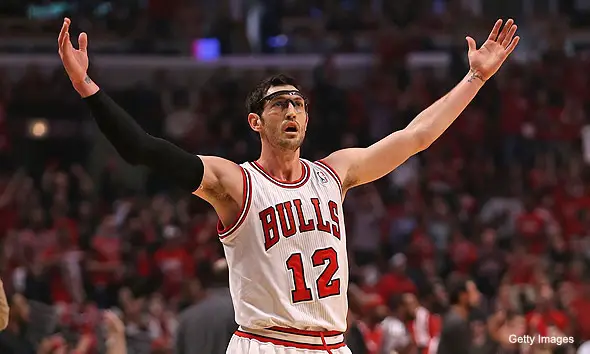 In Part 1, I covered some less than stellar trade assets. Today in Part 2 of this series I will begin to delve into the Bulls' rotation.
GROUP E: "The Rotation Guys"
11.) Kirk Hinrich
Why, oh why, do the Bulls love Kirk Hinrich so much?
After shooting under 40 percent from the field for the second consecutive season, the Bulls rewarded Hinrich by signing him to a two year, $5.6 million contract. Hinrich also has a player option after this season, a 15 percent trade kicker, and the power to veto any trade. Man, it's great to be an NBA player these days.
Hinrich would've made much more sense for the Bulls at the vet minimum, a contract which befits the player he has become. Hinrich is a dreadful offensive player, failing to average even 13 points per 40 minutes the past two seasons. He also failed to reach a 50 true shooting percentage during his latest Bulls stint. His playmaking isn't what it used to be and he's not even an above-average jump shooter these days. All the value for Hinrich is in his intangibles and defense. He's still a tremendous defender, capable of guarding most point guards and wings. Hinrich struggles defending quick guards, but at the age of 33 he still has above-average lateral quickness. Hinrich is also a positive locker room presence who hasn't caused any trouble during his nine seasons in Chicago. Using the cap room exception on Hinrich was a bit excessive, but his versatile defending and high character personality makes this a low risk move.
10.) Tony Snell
Gorgui Dieng, Mason Plumlee, Tim Hardaway Jr.
Gorgui Dieng, Mason Plumlee, Tim Hardaway Jr.
Gorgui Dieng, Mason Plumlee, Tim Hardaway Jr.
Here are some names from the 2013 NBA Draft that swirl through the heads of Gar Forman and John Paxson day after day as they solemnly reflect on what could've been. Taj Gibson and Jimmy Butler are examples of some recent success the Bulls have had selecting late in the draft. Tony Snell isn't.
The Bulls selected Snell with the 20th pick of the 2013 NBA Draft, choosing him over the likes of double-double machine Gorgui Dieng, USA World Cup team member Mason Plumlee, and standout rookie Tim Hardaway Jr. Snell meanwhile had a disaster of a rookie season. He couldn't score. He couldn't shoot. He looked lost defensively. His disappointing rookie season added up to a putrid 8.02 PER.
Snell showed glimpses of being a capable shooting guard, averaging 9.3 PPG while shooting 39.6 percent from behind the arc as a starter in 12 games last season. He continued to show off his potential in the Summer League where he averaged 20 PPG while connecting on 3.4 3-pointers per game at a 50 percent clip. First round picks are supposed to dominate in their second go-around at the Summer League, but either way his performance was better than many expected. Snell doesn't figure to get much playing time this season with Hinrich and Doug McDermott manning down the backup wing spots. Snell also looked lost in the Bulls' first preseason game on Monday, scoring just two points and turning it over twice in 12 minutes of action. With added weight, improved play, and loss of braids (this can be viewed as a positive or negative), maybe Thibs will be more inclined to let the youngster play. Don't expect Snell to hold much trade value until he demonstrates that he has indeed turned a corner.
9.) Mike Dunleavy Jr.
Unlike the first four players on this list, Dunleavy actually has the potential of being traded sometime this season. With only $3.3 million owed to Dunleavy before becoming a free agent after the season, the veteran swingman is an interesting trade chip.
Dunleavy was basically as good as you'd expect him to be last season. He played solid team defense, made his 3-pointers, and was one of the most consistent Bulls players game to game. The usually injury-prone veteran was also one of only two Bulls to play in every game last season (also Taj Gibson). You know what you're going to get out of Dunleavy at this point in his career. He's not going to randomly drain every 3-pointer in sight (well, except for Game 3 against the Wizards) or become a lockdown defender, but he's a serviceable cog in Thibodeau's system who is capable of starting or coming off the bench. It will be interesting to see how McDermott changes Dunleavy's role on the team, but at the time being the 12-year veteran projects to be the Bulls' starting small forward to begin next season. How long he will log major minutes remains to be seen.
Come back to CCS all week to check out the rest of this list.
For More Great Chicago Sports Content
Follow us on Twitter at @chicitysports23 for more great content. We appreciate you taking time to read our articles. To interact more with our community and keep up to date on the latest in Chicago sports news, JOIN OUR FREE FACEBOOK GROUP by CLICKING HERE