Connor Bedard: The New Hope of Hockey for Chicago Blackhawks
Connor Bedard is considered a prime example of the new generation of hockey.
The 18 year old hockey star signed a three year contract that was announced on the Blackhawks center's eighteenth birthday. Connor will be newly graduated from high school with a $950,000 salary cap hit. Bedard is the most hyped prospect since Connor McDavid was drafted by the Edmonton Oilers in 2015.
Connor Bedard Has Always Had a Passion for Hockey
As a child, Bedard refused to go on family trips to Disneyland because he wanted to play hockey instead. He even had to be convinced to go to Hawaii with his family with the promise that he could bring his hockey stick and inline skates.
At age seventeen, he is already a two-time gold medal winner at the World Junior Championship including a breakout performance in the 2023 tournament where he led all skaters in goals (9), assists (14) and points (23).
Bedard even broke his wrist while playing a game in 2017 and was unable to play for twelve weeks. He continued to practice, though, and says that it made him much stronger at the top-hand of his stick and improved his overall shot.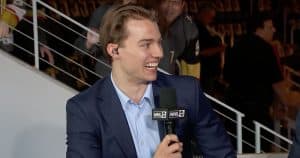 What are other players saying about Connor Bedard?
"Well, he's coming down to this BioSteel camp with some of the best players in the league and I would say he was one of the guys that really stuck out. You never really know, those young kids, how they're going to do, especially coming in with a bunch of NHL players that have had success, a bunch of guys that have experience, have been in the league a long time and he seemed to me that he was very confident. I think there was one play in camp, he had a 2-on-1 with McDavid and he looked off McDavid and took a shot. We were all kind of laughing on the bench. But yeah, I think the thing with him is he moves so well laterally. Everyone talks about his shot and his ability to shoot from different angles and off a different foot each time but man, the way he moves laterally is what gives him that space to be able to do that, so pretty impressive. I think everyone's kind of wondering how is he going to do at the next level, how's he going to be. From what I saw, I think it's all right there, he's going to be special."

– Blackhawks forward Patrick Kane

"His shot is incredible. It comes off his stick so hot. I've really never seen anything like it. Obviously [Auston Matthews] rips the puck; I would say that's the only shot I could really compare it to."

– Islanders forward Mathew Barzal

"I think the next generation and the young guys coming up are just so talented. You look at Bedard, he's so skilled and can make plays at high speed and do whatever he wants on the ice. It's impressive to see."

– Oilers forward Connor McDavid

"What a talent. He's got a lot of skill … his shot is unreal. But his work ethic, his compete on pucks has been great to watch."

– Maple Leafs forward Mitch Marner

"Everyone talks about how good a goal scorer he is, but from watching him for a short period of time, he's able to control the play, slow down the play when he wants and find the open man. He's a dynamic goal scorer but from the looks of things, he has such great vision that he finds his teammates and draws guys to him which forces other guys to be open and he makes that play."

– Blues forward Brayden Schenn

"It's almost like he's pressing random buttons on the Xbox controller, coming up with some of these dangles."

– Team Canada goaltender Thomas Milic
According to the Chicago Sun Times, the "Bedard Effect" will be obvious in the Blackhawks games this season. The preseason starts September 28 against the St. Louis Blues.
This eighteen-year-old 5'10 hockey player from Vancouver, British Columbia, Canada is being banked on to be great before the season even starts. Bedard's shooting, handling, and dynamic rushes are just a few of his skills. There are moves of Bedard's that will be mimicked for years to come.
Connor Bedard in full gear with his favourite player, Sidney Crosby. 🥹

(🎥: @penguins) pic.twitter.com/PRHVcah8hO

— TSN (@TSN_Sports) September 12, 2023
For More Great Chicago Sports Content
Follow us on Twitter at @chicitysports23 for more great content. We appreciate you taking time to read our articles. To interact more with our community and keep up to date on the latest in Chicago sports news, JOIN OUR FREE FACEBOOK GROUP by CLICKING HERE