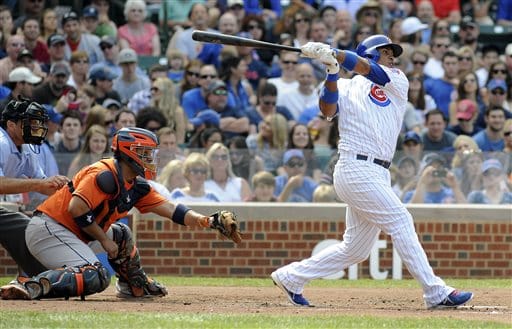 Win: Jose Cisnero (2-0) Loss: Kevin Gregg (2-1) Save: Jose Veras (15)
Home Runs: HOU: J.D. Martinez (7) CHC: Nate Schierholtz (10)
The Cubs got ripped off by the home plate ump at the end of this one. In the bottom of the 8th, with the bases loaded and two outs, Darwin Barney took what looked like ball four on a 3-1, but Phil Cuzzi called the low and inside pitch a strike, extending the at bat. Barney proceeded to pop out. The Astros used small ball to take the lead in the ninth, scoring on a safety squeeze by Cubs legend Ronny Cedeno. The Astros miscues cost them early on in the game, when fielding troubles allowed the Cubs to put two runners in scoring position in the third inning. Luis Valbuena took advantage with a two run single to give the Cubs an early lead. Their other tally was on a long home run by the team's most consistent hitter, Nate Schierholtz. Travis Wood took a shutout into the sixth, but J.D. Martinez broke it up with a game tying three run home run. This was Wood's only blemish, and he still finished with a quality start.
Being a religious Cubs fan, a constant topic that has annoyed me as well as many other Cubs fans has been whether Starlin Castro needs a day off. It is pretty clear that he does. Dale Sveum needs to realize that he is in dire need of one. His batting average has dipped way down to a measly .231, much lower than his previous years. One possible reason for this is the new hitting coach James Rowson. While Rowson has been of help to many Cubs hitters, Castro has seen a sharp decline in production since he took over. The shortstop seemed much more comfortable with Rudy Jaramillo as the hitting coach. In order to clear his head and get him back to the player he used to be, Sveum needs to give him at least a day off, as something like that could change his entire season around.
That brings me to today's game, which was not Castro's worst or best showing, but just another example of why he needs a day off. He went 1 for 5 with a single, but also committed another error, his 12th of the season. Fielding is something that has plagued him his entire career and while that will take time to fix, his hitting isn't. He has proven he can hit well at the big league level, as he reached his 600th career hit at the age of 23 today, an incredible achievement for someone his age. While this last part isn't recap, it's more of a plea for Dale Sveum to allow Starlin Castro to clear his head.The team is not in contention and will not be playing any "must-win" games, so I struggle to see the harm in doing so. My anger will continue to grow until Starlin recieves the rest he needs, and it could be exactly what he needs to stop he regression.
For More Great Chicago Sports Content
Follow us on Twitter at @chicitysports23 for more great content. We appreciate you taking time to read our articles. To interact more with our community and keep up to date on the latest in Chicago sports news, JOIN OUR FREE FACEBOOK GROUP by CLICKING HERE