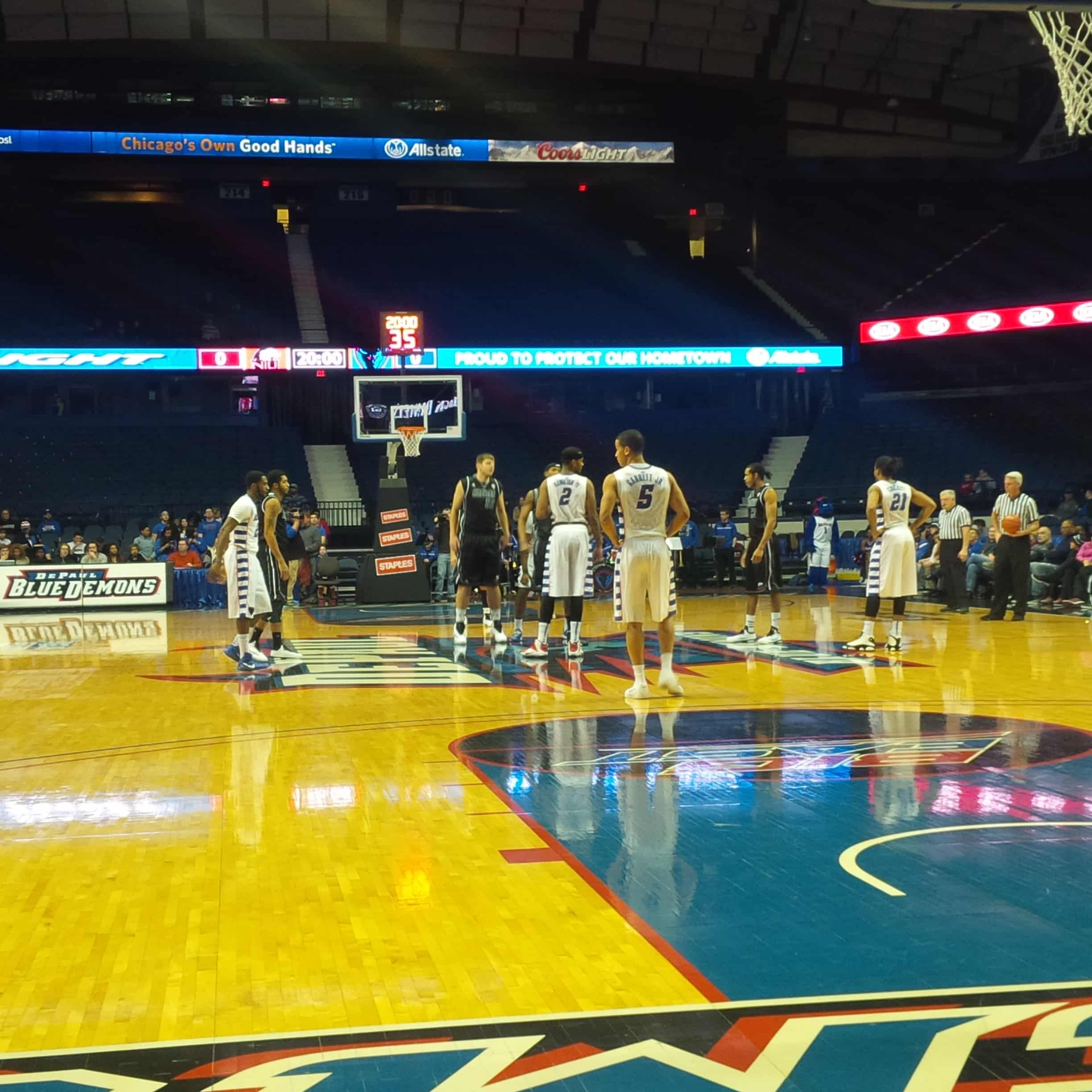 ROSEMONT- After their big win over Stanford this past weekend, the DePaul Blue Demons (4-1) carried that momentum into Tuesday nights game against the Northern Illinois Huskies (3-2) and turned it into a 78-67 victory. They've now won two in-a-row. Defense, defense, defense was the Demons key to victory Tuesday.
In the first half DePaul played a hard man-to-man defense against Northern and limited the Huskies to just 12-of-27 field goals. The Demons led 38-29 at halftime. In the second half DPU switched to a suffocating full-court pressure defense that NIU just couldn't find an answer for.
In the end DePaul forced 21 turnovers, had eight blocked shots, 12 steals and held NIU to just 48-percent shooting from the floor, and 18-percent (2-for-11) from three-point range. They also limited Huskies senior center Jordan Threloff (Tree-loff) to just six points and four rebounds. After the game DePaul senior center Forrest Robinson talked about why his team was so successful defensively…
"We paid close attention to the scouting report", Robinson said, "we had to take it to them before they took it to us" he added. Then he continued by saying, "We bought (into the game plan), it's hard to press that much in a game but we bought in. (But with their) shaky ball handling we could force turnovers and get to running (the floor), that's when we're at our best."
While the defense won this game for the Demons, their offense was just as important. Robinson -who finished with 14 points and made 4-of-6 three-point attempts- along with sophomore center Tommy Hamilton IV (13 points), junior forward Myke Henry (15), senior forward Jamee Crockett (13, 5-of-7 shooting), and sophomore guard Billy Garrett Jr. (15, three assists) all scored in double figures for DePaul.
Crockett, who was named the Jay Goddert (former DePaul and NIU assistant coach) Award winner after this game -this trophy is awarded every time these schools play each other-, credits his team's preparation heading into Tuesday's contest.
"We prepared mentally in practice, we knew they weren't a knock over team" Crockett said in is post game interview. He added, "We went head-to-head with them last year (so) we knew what they were capable of."
Despite the fact that Northern Illinois out-rebounded DePaul (34-22), got more second chance points (14-2) and outscored their bench (27-17), it was ultimately the Blue Demons defense and sharpshooting (28-of-52 field goals, 53.8-percent) that decided the outcome of this game.
"I thought we played well", said head DePaul head coach Oliver Purnell in his post game press conference, "(we had) energy, particularly on the defensive end of the floor" he added.
NIU head coach Mark Montgomery summed up Tuesday's loss in one simple sentence, "Credit DePaul, credit coach Purnell, he had his guys ready to go (and) they played very, very unselfish."
Northern continues their road trip with their next stop at Eastern Illinois (2-5) on Saturday. As for DePaul, they're next game is the continued rivalry with Chicago State (2-6) at the Convocation Center on the South Side Thursday night. The Demons have won four straight in this series, but two of those games were decide by a mere seven points, including last season's overtime thriller.
Coach Purnell knows his next game will not be easy. "We got an opportunity to go on the road for the first time (this year)", Purnell said, "I think (Chicago State has) some talent (and) we've had a tough time every time we've gone over there" he added.
DePaul looks to add to their winning streak, while Northern Illinois looks to bounce back. Follow me on Twitter @GabeSalgado82
For More Great Chicago Sports Content
Follow us on Twitter at @chicitysports23 for more great content. We appreciate you taking time to read our articles. To interact more with our community and keep up to date on the latest in Chicago sports news, JOIN OUR FREE FACEBOOK GROUP by CLICKING HERE