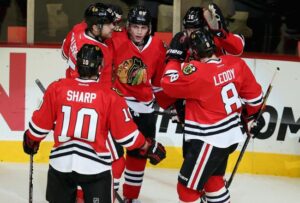 With the recent ending of the Blackhawks impressive 30 game point streak dating back to last season many Blackhawk fans are probably thinking to themselves "did this team peak to early". The answer is no. I don't agree with anyone who says a team has "peaked too early". If a team has proven that it is good quality team than there is no reason to believe that they will not be as good the remainder of the season
The Blackhawks are a team that has amazing chemistry with one another along with a good balance of play makers,tough guys, and snipers in there lineup. There goal-tending has proven its potential throughout the season. The Blackhawks wouldn't have gone on  their impressive streak without stellar goal-tending from Emery and Crawford. The pieces to this team have the makings of a Stanley Cup Championship Team.
The key to this team like every team is to stay healthy. If the Blackhawks can stay healthy the rest of the season they should be able to achieve their full potential which they proved throughout the streak was pretty high. The leaders on this Blackhawk team no what type of focus and hard-work is needed to win the cup.
For More Great Chicago Sports Content
Follow us on Twitter at @chicitysports23 for more great content. We appreciate you taking time to read our articles. To interact more with our community and keep up to date on the latest in Chicago sports news, JOIN OUR FREE FACEBOOK GROUP by CLICKING HERE