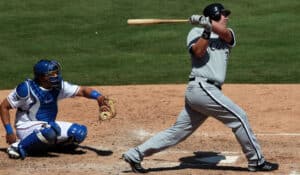 It's the first game of the year. A time when doubts are put aside, if only for a few moments, and the hope of your team making the playoffs lingers in the air for at least a little while.
Though winning or losing the first game really doesn't mean much in the grand scheme, I like to look for very specific changes in the team from the year prior when watching these early season games.
While I saw some things I did like, unfortunately, I saw more of the same from the White Sox.
For starters, good teams get runners in from scoring position. In the 1st inning, Ian Kinsler had a lead-off double. I knew the Rangers would find a way to get him home because they're a good team. They know how to lay down successful bunts and put the ball deep enough in the outfield to drive that runner in from third. It's almost expected. Well, sure enough, they did what they were supposed to do; textbook style.
Two innings later, the White Sox had a similar opportunity when Viciedo doubled to lead off the inning. The old White Sox would strand him in less-than-spectacular (actually, embarassing) fashion. Would this year's Sox advance that runner and eventually bring him home?
No.
I would have been happy with the advancing of Viciedo to 3rd because that, even, would have been an improvement. But Viciedo stood there at 2nd base without even the slightest opportunity to take 3rd base.
We've all read this story before.
This is Alexei Ramirez's 5th season in the majors. He is notorious for swinging at crap. Not just crap, but really bad crap; like pitches in that hit the dirt in the left-handed batter's box.
He's still doing it.
Beckham was the guy I was most interested in seeing, but today he (and Morel) looked like he never swung a bat before. Yes, yes. I know it's early. But that is what spring training is for: to get back into the groove and work on issues.
But, hey. At least we didn't see AJ ground out to 2nd, so that's good.
There were a few positives, however.
I like the look of the outfield with Rios in right. He seems much more comfortable there than in center and am excitied to see what De Aza can do in the outfield and at the plate.
Despite the fact that Dunn also homered in the 2011 opener, it seems that he's being more patient and seeing the ball better, which is encouraging. He had some really good at-bats including a launch to right-center that I don't think landed yet. Dunn relaxing and being patient is probably most what I want to see happen besides the Sox scoring runners from scoring position.
The Sox have a solid bullpen as well after a few years of weak links (see: Brian Bruney, Scott Linebrink). I believe the bullpen of Thornton, Crain, Reed, Santiago, and Stewart can make for the best pen in the AL Central.
I'm looking forward to seeing what Ventura can do with this team as the season goes on. My expectations for this team have been slim to none and they still are. Nothing has changed that. If they make the playoffs, great. But, my goal for them this year is to see them work on the textbook baseball things that they seem to never be able to do and show vast improvements by the year's end so when 2013 rolls around they can put themselves in a position to contend. If they can do that, then I'll consider this season a "good" season.
And, right now, they're not off to a good start.
But, there's 161 more of these games to go; so I'll be sure to temper my need to see instant improvement.
For More Great Chicago Sports Content
Follow us on Twitter at @chicitysports23 for more great content. We appreciate you taking time to read our articles. To interact more with our community and keep up to date on the latest in Chicago sports news, JOIN OUR FREE FACEBOOK GROUP by CLICKING HERE