Looking for funny fantasy football team names for the 2011 season? Look no further, here is the first list of team names we've compiled. Last year our Top 10 Fantasy Football Team names for 2011 received great feedback and traffic from the interwebs. Hopefully this year's list will live up to the high expectations after a great batch last season.
**UPDATE** – Our 2012 List of Funny Fantasy Football team names has been posted. 
Any fantasy football player can attest that a team name is the most important aspect of your team. Well, that and drafting the best sleeper running back (cough Arian Foster cough). Here is our list of the top fantasy football team names for the 2011 season.
The Great White Hillis: If you've been living in a shed the past couple months, Peyton Hillis was announced as the Madden 2012 cover boy. He is the NFL's version of Chuck Norris at the running back position. The Cleveland Browns running back that half of America doesn't know about….will soon know about him. Did we mention HE IS A WHITE RUNNING BACK.
Forsett in Her Butt: It wouldn't be the internet if we didn't include a anal sex joke on our list. RB Justin Forsett of the Seattle Seahawks must have heard this one many times through out the years. Get it? FORCE. IT. IN. HER. BUTT. This is about as interesting as the Seattle Seahawks will get this upcoming season.
Danny's Woodhead: Now that we've gotten the anal sex joke out of the way, now it's time for the penis reference! Danny Woodhead of the New England Patriots emerged last season and proved to be a great player for the Pats. He also lands on our list as a potential penis reference for your team name this season.
The Arian Brotherhood: If you had the Texans' Arian Foster on your fantasy team last year, chances are you enjoyed the fruits of the post-season. If you can land Arian Foster this season, you have the potential to blow the lid off your league this season with this great racially driven team name! A team name so funny, real Aryans might even chuckle at it….maybe.
Drankin Forte's: Being that this is a Chicago sports site, we had to get a hometown hero on the list. Bears' RB Matt Forte provides the perfect last name for an alcoholic reference. Bears fans could be in for a season of heavy drinkin' so stock up on the 40's…..by heavy drinking, we mean from celebrating. Or something like that.
Clay Brady, Marsha Mathews: Being that this is a Chicago sports site Shit, we used that lead in we have to take a dig at the….this pains me to say it…Super Bowl champion Green Bay Packers. Clay Mathews has long, beautiful, golden locks, and it wouldn't be right to not mention them. Little known fact, Clay Mathews was actually a stand-in for Marsha Brady on the Brady Bunch.
Burressted Development: I almost feel bad associating Plaxico Burress with a wonderful comedy, Arrested Development. However, in the name of comedy, it's alright to do so. Burress was recently released from prison for umm….shooting himself on accident. That is what he gets for wearing sweat pants to a club. He didn't get the memo that you only wear sweatpants to the STRIP club. Remember Arrested Development fans, there's always money in the Banana Stand.
The Rex Ryan DeFEET: Remember when Mike Vick jokes were all the rage in EVERY single fantasy football league in the country? Well, this season get ready for the new target. Jets head coach Rex Ryan's public foot fetish has put him on the radar of fantasy players across the net. We'll give credit where it is due, his wife is hot. He's batting out of his league. Feel free to use this name, we've done all the leg-work for you by coming up with the name.
Tebow's Youth Group: There isn't a description for this one besides Tim Tebow is "that guy". This is a great choice if you wish to not only poke fun at Tim Tebow, but also religion as well. Just make sure you're aware of who is in your league, you could piss off the wrong person. By the wrong person, we mean Tim Tebow. Or his youth pastor.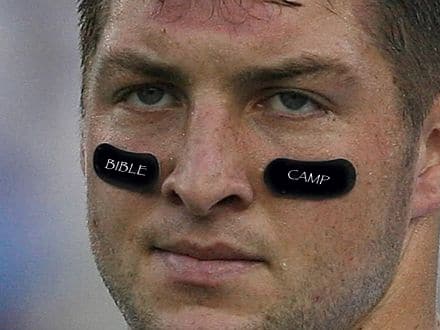 Wilfork for Food: Vince Wilfork is a large mammal. He will do anything to get his hands on some cookies or cake. He will fork for food.
The Jersey Leshoure: When RB Mikel Leshoure was drafted by the Detroit Lions, little did he know he would be the subject of many fantasy football team names the following season (that is if the Cock bLOCKOUT is lifted). Simple play on words, find love on the Jersey Leshoure.
 More Fantasy Football Team Names for 2011
For More Great Chicago Sports Content
Follow us on Twitter at @chicitysports23 for more great content. We appreciate you taking time to read our articles. To interact more with our community and keep up to date on the latest in Chicago sports news, JOIN OUR FREE FACEBOOK GROUP by CLICKING HERE